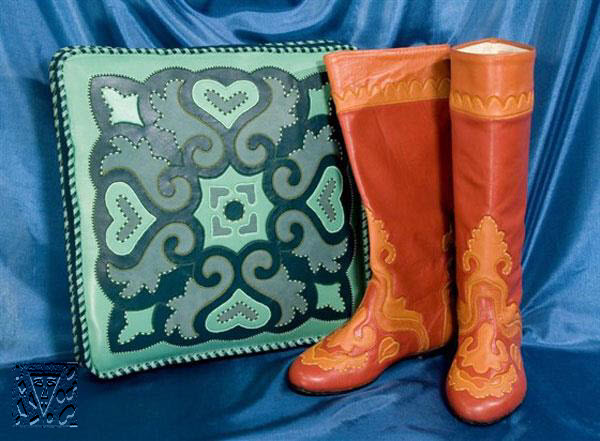 click to watch ↑
Tatar leather mosaic

Still Volga Bulgar times were famous for high quality manufacture of leather. Sewed of soft morocco or Russia leather patten boots, shoes were in great demand not only among local population, but also is far outside. Art of a mosaic from a skin has lived up to now and it became known to a wide range of admirers in many respects thanks to craft Kazan skinners.
The Kazan masters have developed the special technics of manufacture without waste at which the cutter put a pile some pairs of different colours of a damp skin and cut out an ornament of all boots. Then, changing between layers some elements of a pattern, the multi-colour composition was created. The mosaics made thus were sewed by the special decorative seam serving by a contour of a pattern.
To ornaments of the Tatar leather mosaic in which basis lie vegetative motives attach frequently mystical significance. So for example motives of running waves, symbolise worship water.
Today the technics of art processing of a skin in style of a mosaic is widely applied at manufacturing of various products and we offer you will familiarise only with a small part of all this surprising variety become to one of symbols of the Tatar national art.
Volume: 24 th.
Format: JPG
Size: 3,012 Mb