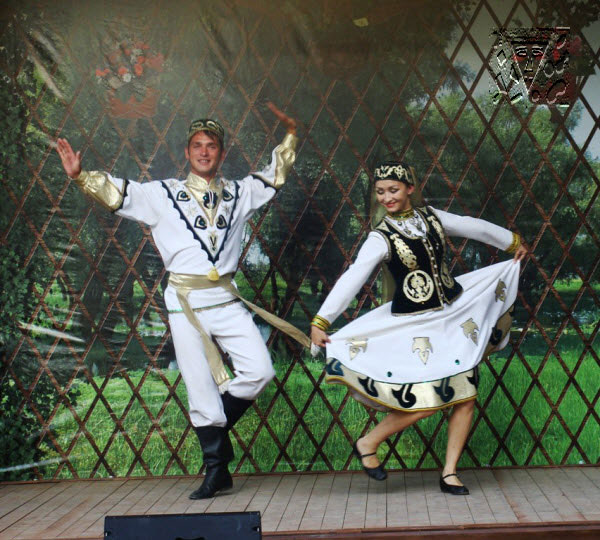 click to watch ↑
Russia's largest ethnic minority is the Tatar, with a population of 6.5 million. Sunni Muslims of Turkic decent, the Tatar can be broken into numerous subgroups that stretch not only throughout Russia, but parts of Turkey, Ukraine and Central Asia. The largest group is the Kazan (Volga) Tatar who originated from the historic state of Volga Bulgaria at the confluence of the Volga and Kama rivers in present day Russia. These ethnic Tatar ("Bulgars") have managed to preserve their language and culture which includes a wide range of traditional folk dance.
The
Tatar national dance
has come to us from ancient times and introduces beauty, love, harmony and feeling of a rhythm in our life. By means of these fine feelings through dancing movements the people express the thoughts, the inwardness, the hopes and expectations. Perhaps any Tatar national holiday does not pass without dances. In dance the people have a rest soul, sing the best song.
Certainly
Tatar dance
one the most recognised and unique, one of the most incendiary and cheerful. This face of the Tatar people and it is recognised and distinctively that is why obligatory attribute of national dances are corresponding
Tatar suits
which steal up for each dance separately. Bright, colourful, sated tone of dancing suits and iridescent atmosphere of representation - all it leaves deep and unforgettable impression. We bring to your attention a selection of the best photos of national dances.
Volume: 44 th.
Format: JPG
Size: 5,87 Mb