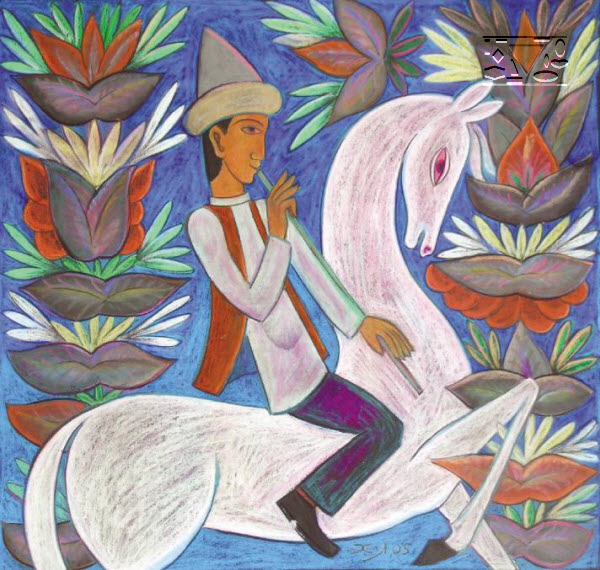 Slide show ↑
Latypov Hamit Nazipovich
The artist-poet, the sculptor, member of the Union of artists of the Russian Federation since 1998, a member of the Union of writers of Tatarstan since 2002.
Hamit Latypov was born in 1949 in Gubakha the Perm area. The same year the family has removed into the country Buljar of Bashkortstan. At early age remained without parents.
In 1964, after the school termination, has arrived in Ufa musically-normal school, but because of financial difficulties finish a full educational cycle could not. Worked as the oil industry worker in settlement Semiletka of Djurtjulinsky area.
For 1974-1978 its study in the Ufa school of arts where Latypov has received the diploma of the artist (master-carver).
In 1995 the artist has started to test in a pastel genre. During the same time seriously is engaged in poetic creativity. Its verses are published in periodicals of Bashkortstan and Tatarstan.
In 1997 there is its poetic collection (the Earth and the sky), illustrated by drawings of the author.
H.Latypov not only improves the skill, but also undertakes active steps on propagation of art of an art carving. In 1999 under its initiative in Tujmaznnsky professional lycée № 49 was openly three-year branch on a speciality the woodcarver.
From May, 2000 till March, 2002 H.Latypov worked as artist ОО of "Turan" (Kazan), was engaged in working out of carved painted wooden souvenirs, samples of furniture.
Now lives and is engaged in art creativity in Tuimazy of Bashkortstan.
Volume: 34 th
Format: JPG
Size: 3,1mb
Tatar arts
---