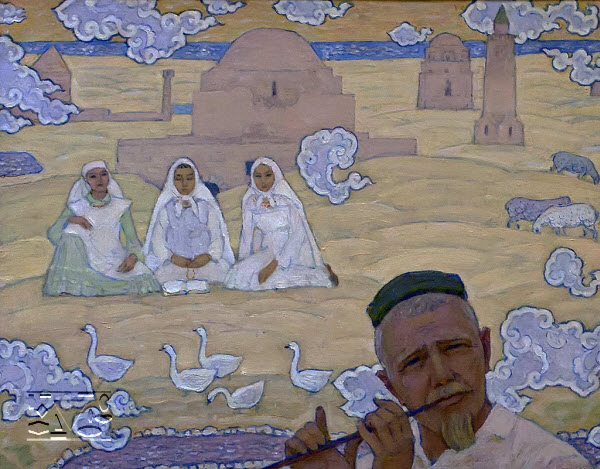 Slide show ↑
Artist Ravkat Mukhamedovich Vakhitov is one of the leading masters of Modern Fine Art of Republic of Tatarstan and distinguished figure of all the multinational Russian Art Society.
The student of Kharkov Institute of Art, graduated in 1956, a member of Artists Union (former USSR, now International Artists Union included Artists Union of Russia and Tatarstan)
R.M. Vakhitov has a sizable experience in creative, pedegogical, organizing work and public activity in the field of Art Culture. I lis graphic and monumental works even during his life and work in Udmurtia and Uzbekislan (until 1976) attracted an attention of viewers and specialists and took worthy place in Republican and the first zonal exhibitions «Large Volga».
As a master of monumental painting possessing with virtuosity different techniques of mosaic, decorative ceramics and fresco he has created a series of contexture and panno decorating public places and new buildings of Naberezhnye Chelny, Almetievsk, Kazan and other cities, has found capacious symbolic forms and bright vivid decisions revealing high national ideals and moral values.
The most important and constant parallel to monumental decorative art is Ravkat Vakhitov's work in the field of machine painting where his talent has revealed in portrait and historical genres in its most fullness. For many years the artist created a rich historical portraits gallery of the national heroes, outstanding culture representatives, leaders of Tartar liberally movement, politicians of the national and international scope and contemporaries as well, whose nature, image and spiritual world found convincing, striking and exact expression in Vakhitov's paintings.
The most important layer of all the Vakhitov's works is realistic picturesque portrait. The artist turned to it constantly - from the earliest to the latest, new works. Interesting creative searches in the Held of historical and mythology painting accompanied to this genre where the artist created poetical, inspired with high lyrism pictures as if waved of magic tissue of historical legends, reminiscences and dreams, pictures about far and glorious Past of his people adding each other and merging into continuously developing series of pictures about ancient Bulgar Land, about Kazan Empire, about Edigey feats and other folklore-historical characters - the Tartar national history heroes. Slender system of applied style including variety of orient antique miniature, calligraphic shamails, arabeska ornament forms gets versatile development in fable-historical R.M. Vakhitov's painting.
Volume: 19 th
Format: JPG
Size: 4,67mb
Tatar arts
---