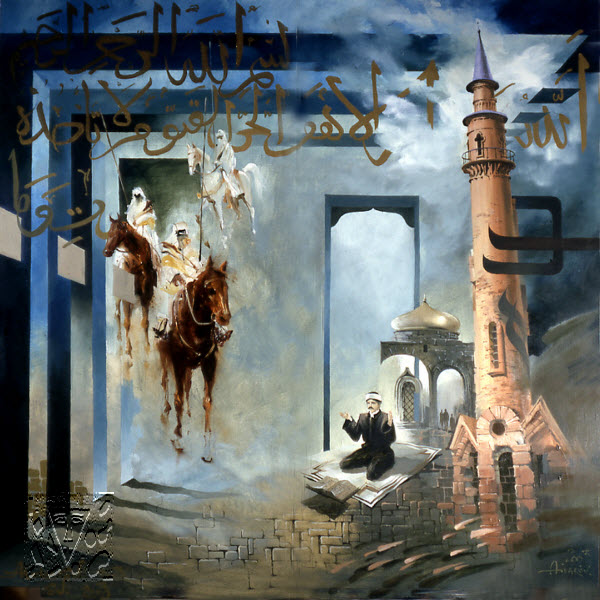 The artist, architect was born in 1956 in Kazan. He graduated from Moscow Architectural Institute.

Corresponding Fellow of Russian Academy of Arts, People's Artist of the Republic of Tatarstan, Honoured Artist of Tajikistan, Member of the International Academy of Art and Culture, Member of the USSR Union of Architects, Member of Artists Union of Russia (MOSH), Member of Moscow Union of Artists (MSH), Member of Artists Union of the Republic of Tatarstan

Ilyas has been awarded the top state and communal awards in the arts field. For an unprecedented exhibition in space aboard the International Space Station (ISS) has been honoured entry into the Guinness Book of Records (Russian branch)

For many years, Ilyas Aidarov has attracted an ever increasing number of connoisseurs, collectors and art lovers – from the early 80′s his art appeared in Moscow, provincial, regional, national and international art exhibitions. Today it is difficult to imagine and summarise all the diversity of Aidarov's works which are scattered in numerous private collections in this country and most countries in Europe, Asia and America. Iliyas Aidarov paints everything, he is diverse not only in technique: painting, drawing, but also in the genre. The audience experience canvases which portray emotional, heartfelt joy of life, rooted in the power, energy and creativity of nature. His paintings are romantic forms where reality and fiction merge together. They are novels with unique characters and emotions, unexpectedly close, as if they are familiar to us from our childhood. All this creates a sense of celebration, which the artist gifts to the viewer.
Volume: 102 th
Format: JPG
Size: 54,4mb
---