Pictures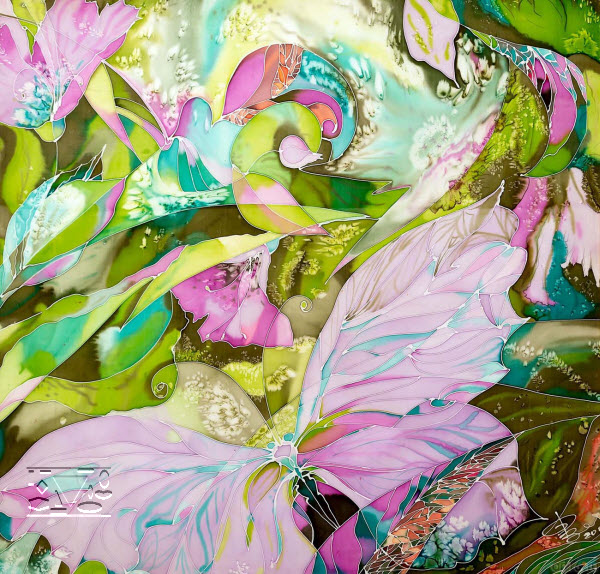 Slide show ↑
Tatar ornament in the modern batik.
Farida Harrasova was born in Kazan in 1971.
Farida Harrasova for their work using only natural shelk. The works were made in the technique as a free list, and in the backup cold batik technique.
Volume: 16 th
Format: JPG
Size: 4,8mb
Tatar arts
---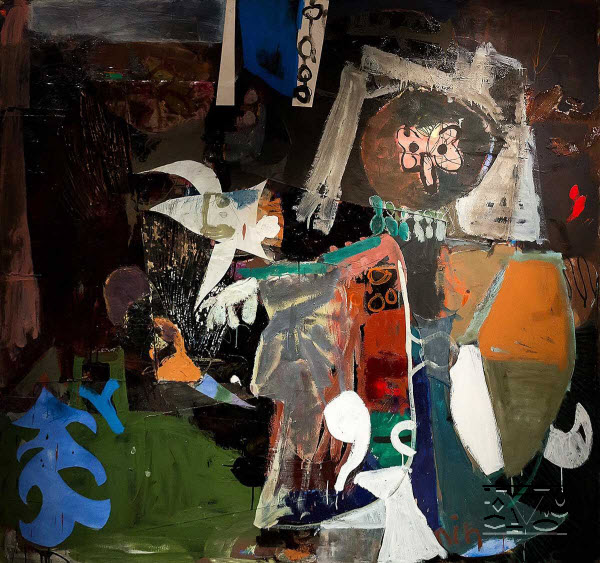 Slide show ↑
Biography
Ramin Nafikov
has mastered his art skills by having completed studies at Art School of Kazan as well as at Latvian Academy of Arts, where he has been studying at the studio of professor Indulin Zarinsh, who is considered a living classic of Soviet-era painture. The combination of academic approach to working with a model with freedom of plastic interpretations are hallmarks of these studies in Riga. Ramin has acquired high mastery in drawing, as well as profound knowledge of laws of composition, and has developed an extremely subtle sense of color.
Education:
1991-1997 - Latvian Academy of Arts, faculty of monumental painting.
Advisor - prof. Indulis Zadin'sh.
1983-1987 - Kazan Art College.
Volume: 25 th
Format: JPG
Size: 2,4mb
Tatar arts
---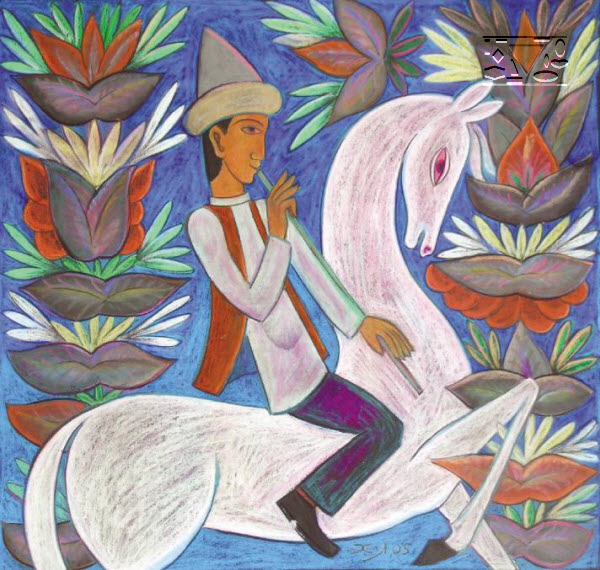 Slide show ↑
Latypov Hamit Nazipovich
The artist-poet, the sculptor, member of the Union of artists of the Russian Federation since 1998, a member of the Union of writers of Tatarstan since 2002.
Hamit Latypov was born in 1949 in Gubakha the Perm area. The same year the family has removed into the country Buljar of Bashkortstan. At early age remained without parents.
In 1964, after the school termination, has arrived in Ufa musically-normal school, but because of financial difficulties finish a full educational cycle could not. Worked as the oil industry worker in settlement Semiletka of Djurtjulinsky area.
For 1974-1978 its study in the Ufa school of arts where Latypov has received the diploma of the artist (master-carver).
In 1995 the artist has started to test in a pastel genre. During the same time seriously is engaged in poetic creativity. Its verses are published in periodicals of Bashkortstan and Tatarstan.
In 1997 there is its poetic collection (the Earth and the sky), illustrated by drawings of the author.
H.Latypov not only improves the skill, but also undertakes active steps on propagation of art of an art carving. In 1999 under its initiative in Tujmaznnsky professional lycée № 49 was openly three-year branch on a speciality the woodcarver.
From May, 2000 till March, 2002 H.Latypov worked as artist ОО of "Turan" (Kazan), was engaged in working out of carved painted wooden souvenirs, samples of furniture.
Now lives and is engaged in art creativity in Tuimazy of Bashkortstan.
Volume: 34 th
Format: JPG
Size: 3,1mb
Tatar arts
---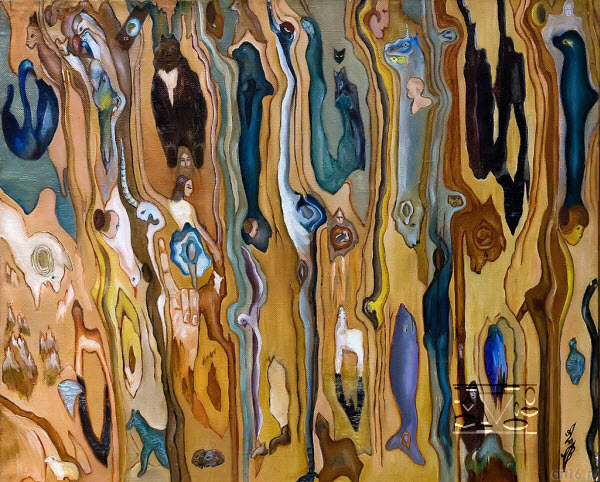 Slide show ↑
Has to graduated Moscow correspondence university of art in 1991. Since 1997 member of artist Tartarstan. Five years worked as teacher an fine arts classes. Four - a leader of art studio. Since 2002 - a chairman of Kazan branches of the Professional Union of Artist CIS (the centre in Moscow). Member of Alliance journalist republic of Tatarstan and International Confederacy journalist. Since 2004 - a member of the Union of Russian writers.
Lada is author and artist of 21 books. The Editor and artist the most popular with 2004 year russian-language publishing for children newspaper in Tatarstan - "Children's newspaper ".
She is to participated on city art exhibitions (in city Kazan), art exhibitions between republics, Second independent international biennial graphic (in city St. Petersburg July 2004), in international Art-project "Rib of the Adam" Elabuga State Museum - a game reserve RT ( Elabuga 2009). December of 2010 she was participates in the art-project "Kazan - third capital of Russia", with a collective exhibition of the Kazan branch Professional union artists of CIS in Czechia, at the Russian centre of a science and culture in Prague. Lada made a lot of personal exhibitions in Kazan takes part in republics (Tartarstan) and many others.
In 1997 in Egypt (city Cairo). In 2000, 2005 years in France (city Paris), in 2005 the express-exhibition in Germany (Berlin, Reyh Stag). In October 2008 invited in Moscow as the known atrist-poetess in jury of the contest "Russian woman-2008" alongside with leading figure of Art of Russia within the framework of contest passed her personal exhibitions in concert hall "World", and "Art- hotel". One of the gift for winner "Miss Russia-2008" became the picture of Lada Ayudag.
The Loved genre - a portrait. Her works are in International Academy Graphs (the city St.
Petersburg ), in Museum of Elabuga, in a personal collection and official representation CIS, France, Turkey, Greece, Egypt, Sweden.
Volume: 27 th
Format: JPG
Size: 5,5mb
Tatar arts
---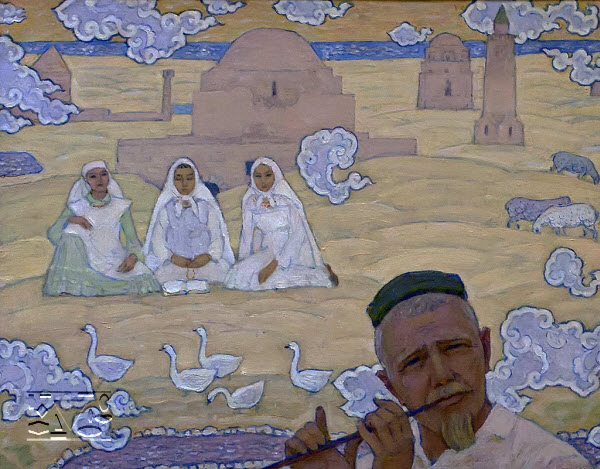 Slide show ↑
Artist Ravkat Mukhamedovich Vakhitov is one of the leading masters of Modern Fine Art of Republic of Tatarstan and distinguished figure of all the multinational Russian Art Society.
The student of Kharkov Institute of Art, graduated in 1956, a member of Artists Union (former USSR, now International Artists Union included Artists Union of Russia and Tatarstan)
R.M. Vakhitov has a sizable experience in creative, pedegogical, organizing work and public activity in the field of Art Culture. I lis graphic and monumental works even during his life and work in Udmurtia and Uzbekislan (until 1976) attracted an attention of viewers and specialists and took worthy place in Republican and the first zonal exhibitions «Large Volga».
As a master of monumental painting possessing with virtuosity different techniques of mosaic, decorative ceramics and fresco he has created a series of contexture and panno decorating public places and new buildings of Naberezhnye Chelny, Almetievsk, Kazan and other cities, has found capacious symbolic forms and bright vivid decisions revealing high national ideals and moral values.
The most important and constant parallel to monumental decorative art is Ravkat Vakhitov's work in the field of machine painting where his talent has revealed in portrait and historical genres in its most fullness. For many years the artist created a rich historical portraits gallery of the national heroes, outstanding culture representatives, leaders of Tartar liberally movement, politicians of the national and international scope and contemporaries as well, whose nature, image and spiritual world found convincing, striking and exact expression in Vakhitov's paintings.
The most important layer of all the Vakhitov's works is realistic picturesque portrait. The artist turned to it constantly - from the earliest to the latest, new works. Interesting creative searches in the Held of historical and mythology painting accompanied to this genre where the artist created poetical, inspired with high lyrism pictures as if waved of magic tissue of historical legends, reminiscences and dreams, pictures about far and glorious Past of his people adding each other and merging into continuously developing series of pictures about ancient Bulgar Land, about Kazan Empire, about Edigey feats and other folklore-historical characters - the Tartar national history heroes. Slender system of applied style including variety of orient antique miniature, calligraphic shamails, arabeska ornament forms gets versatile development in fable-historical R.M. Vakhitov's painting.
Volume: 19 th
Format: JPG
Size: 4,67mb
Tatar arts
---