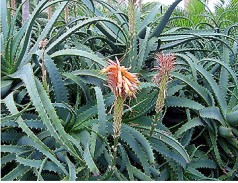 There are over 250 species of Aloes in the world, mostly native to Africa. They range in size from little one inch miniatures to massive plant colonies consisting of hundreds of 2 foot diameter plants. Although most Aloes have some medicinal or commercial value, the most commonly known is the Aloe barbadensis, better known as the Aloe Vera.
All Aloes are semi tropical succulent plants, and may only be grown outdoors in areas where there is no chance of freezing. However, they make excellent house plants when they are given sufficient light. Container grown Aloe plants benefit from spending their summer outdoors. Older specimens may even bloom, producing a tall stock covered with bright colored coral flowers. The nectar from Aloe flowers is a favorite food for hummingbirds!

Planting Instructions

Aloes have a shallow, spreading root system, so when it is time to plant, propagate, or repot choose a wide planter, rather than a deep one. Use a planter with a drainage hole, or provide a 1-2 inch layer of gravel in the bottom of the pot to ensure adequate drainage. I find terra-cotta pots are perfect for aloe because they don't retain the extra moisture that could damage the plant, but, if you are careful not to over water any planter will do. When you pot your aloe offshoots, or the main plant, use regular potting soil with a extra perlite, granite grit, or coarse sand added. You may also use a packaged 'cacti mix' soil. I have had success with a composted 'cow manure' product. Dampen the soil before potting. The plant won't require more water for a couple of weeks. Then pierce the soil with a fork, breaking up the hard surface, down to about two inches. This allows the soil to better absorb the water. Water lightly until it comes out of dormancy in the spring.

Fertilize yearly, in the spring with a dilute (half strength). Aloes are propagated by removing the offsets which are produced around the base of mature plants, when they are a couple inches tall (or larger). I usually let them get 4 to 6 inches.
Aloe plants love bright sun, but will do fairly well in medium light as well. Allow the soil to dry between watering and water less in the winter than in the warm months. They like being pot bound in my experience, and may be divided each spring or before if you have a lot of baby plants in the pot.
The aloe is a succulent plant, with leaves that can hold water for long periods at a time. Too much water can rot the plant, and it would take the most severe drought to dry it out.
The plant's only other enemy is cold. It will do quite well next to a window with even minimal light, but it prefers bright, indirect lighting.
An aloe plant is a welcome friend in the kitchen.
Potting aloe is a great children's project by the way. The plants are easy to handle, and hardy enough for little hands to replant.


Problems and Pests

The aloe vera plant has few problems and pests, but it is sensitive to over-watering. Waterlogged, soggy soil can cause blight, water mold, crown rots and fungal leaf spots. The aloe vera is amazingly resistant to most pests, but is sometimes attacked by the mealy bug. Manual removal of the pest or a spray of half-water, half-methylated spirits will repel the insects. The best preventative measure is to avoid over-watering.


The Medicinal Properties of Aloe Vera

The medicinal properties of Aloe vera have been known and recorded since biblical times. It has been used for a variety of ailments, and as an ointment for burns, cuts, and rashes, as well as an ingredient in various beauty preparations. The sap of the Aloe is a thick, mucilaginous gel. It is this gel which is used medicinally. The outer skin has essentially no value, but because it is commercially easier and less expensive to utilize the entire leaf, 'whole leaf' Aloe juice has been hyped as the 'best'. This is not the case.