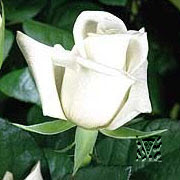 A rose is a woody perennial of the genus Rosa, within the family Rosaceae.
Large group of flowering shrubs, most with showy flowers that are single-petalled to fully double petalled. Leaves are typically medium to dark green, glossy, and ovate, with finely toothed edges. Vary in size from 1/2 inch to 6 inches, five petals to more than 30, and in nearly every color. Often the flowers are very fragrant. Most varieties grow on long canes that sometimes climb. Unfortunatly, this favorite plant is quite susceptible to a variety of diseases and pests, many of which can be controlled with good cultural practices.

Types of Roses

There are three different types of roses: bush, climbing and shrub. Rose bushes produce blooms at the top of the bush. They can grow from a few inches high such as miniatures or up to 6 feet tall such as hybrid teas, floribundas and rose trees. Climbing roses have long canes that can be trained to grow up a trellis or wall, such as rambler and trailing roses. Shrub roses make good hedges and are easy to care for. Some are disease resistant and winter hardy, such as the Knock Out rose.

Fertilizing
Established plants can benefit from fertilization. Take a visual inventory of your landscape. Trees need to be fertilized every few years. Shrubs and other plants in the landscape can be fertilized yearly. A soil test can determine existing nutrient levels in the soil. If one or more nutrients is low, a specific instead of an all-purpose fertilizer may be required. Fertilizers that are high in N, nitrogen, will promote green leafy growth. Excess nitrogen in the soil can cause excessive vegetative growth on plants at the expense of flower bud development. It is best to avoid fertilizing late in the growing season. Applications made at that time can force lush, vegetative growth that will not have a chance to harden off before the onset of cold weather.

Light
Full Sun is defined as exposure to more than 6 hours of continuous, direct sun per day.

Watering
Moist and well drained means exactly what it sounds like. Soil is moist without being soggy because the texture of the soil allows excess moisture to drain away. Most plants like about 1 inch of water per week. Amending your soil with compost will help improve texture and water holding or draining capacity. A 3 inch layer of mulch will help to maintain soil moisture and studies have shown that mulched plants grow faster than non-mulched plants.

Planting
Plant roses where they will receive full sun (at least 6 hours) and ample moisture and nutrients. Allow adequate spacing (3 to 6 feet apart depending on the climate) as good air circulation will inhibit foliar diseases. Before planting, soak bare root plants in water for several hours to ensure they are well hydrated. Select a soil site that is well drained. For clay soils amend the soil with organic matter or prepare raised beds. Dig a planting hole big enough to spread out the roots completely, once the center of plant has been set atop a mound. Fill hole with water before planting. Remove broken canes or roots and plant the bush so that the graft union (swollen knob from which the canes grow) is just above the soil level. Fill hole with amended soil and water well. Mound rich soil over the graft union to protect it from the sun. Remove this once leaves have appeared. Container grown roses can be planted almost anytime of year and would be done just as if planting a shrub.