The tatar cuisine is delicious and useful.
Long since Tatars are famous for the culinary art. The ethnic cuisine does life of these great people more richly also is more significant. Still with to the Mongolian times Tatars conduct a settled way of life in which basis agriculture and for this reason so

Tatar cuisine

with products from the dough is rich lies. Perhaps any kitchen of the world cannot brag of such love to bread. It is not less various and meat dishes on which leave its mark the neighbourhood with nomad tribes and religious features of the people. Tatars do not prepare pork but there are no better masters in processing of a horse-flesh, mutton and beef. However get acquainted with this fine kitchen on site pages and do conclusions.
_______________________________________________________________________________________________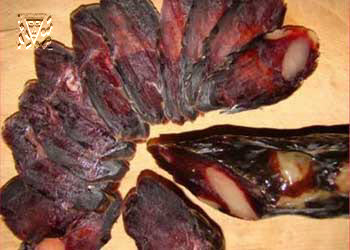 House dried tatar sausage.
For preparation qaziliq is better to take a belly part and pulp of fresh fat beef or a horse-flesh (fresh meat well absorbs pepper and salt).
Meat small to cut, to add more salt, black ground pepper and, mixing, it is good to rub in meat. The stuffing prepared thus to put in a pan, to cover with a napkin and to maintain on a cold from 15 o'clock till 1,5 days.
Horse or beef guts to wash out cold water, to turn out, scratch out the slime, three-four more times to wash out cold water, again to turn out and one end to tie up by thread.
To fill guts with the prepared stuffing, alternating meat and fat slices. It is necessary to consider that fat content of meat for qaziliq should make approximately 30 percent. At the big fat content the filled guts pierce in several places by needle to allow to excessive fat to flow out. Having filled guts, to tie up the open ends and to take out sausage for some days on the sun and a wind. Then for 2-2,5 months to suspend in a dark cool place for maturing.
Ready qaziliq 4-5 months remain. Before giving on a table qaziliq cut the same as sausage of industrial preparation, but thicker circles to keep fat.
Qaziliq from a horse-flesh
To take a fat horse-flesh (belly), to cut on slices in 2 sm in width and 7-8 sm in length, to salt, pepper, it is good to mix and put all for two-three days on a cold.
Then the processed beef guts to fill with the received stuffing, the ends to fasten and again to put on a cold (put during snow for 5-6 days in the winter). Prepared thus qaziliq suspend on an attic or in a dark place for 2-3 months for dried.
---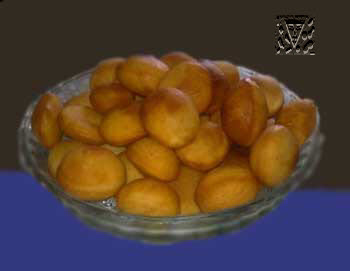 Baursak
In ware to let out eggs, to pour milk, to add oil, granulated sugar, salt and yeast. The mix is good to the full dissolution of sugar, salt and yeast. Then to enter the sifted flour and knead dough. It should be softer, than dough for house noodles. To take dough pieces on 100-150 g, to unroll their thin sausages and to cut slices in size about a wood nut. Slices to ship in boiling oil and, stirring slowly, to fry to a ruddy crust.
Ready boortsoq to decant in a colander, to allow to flow down to fat. Baursak moves on a table the cold. It is good to take it in road.
On 1 kg of a flour: 10 pieces of eggs, 130-140 g milk, 30-35 g to sugar, 30 g melted butter, 5 g yeast, salt, oils for frying 180-200
Baursak with katyk.
Prepare yeasty dough, do balls in size about a walnut cut. Balls are fried in hot fan, then them take out from fat and cool. Balls put in bowl or a soup plate, fill in katyk and submit on a table.
Baursak (dough with a liver)
Yeast dough is put. The liver (Baur in Tatar a liver), passed through a meat grinder and add to the dough. Ready dough unroll and cut balls in size about a walnut.
Ready balls fry in hot fan and submit on a table with katyk.
On 600-650 g flour: 6-8 pieces of eggs, 150 g milk, 30 g to sugar, 30 g melted butter, 5 g yeast, salt, 400 g a boiled liver, for frying 200-250 г oils.
Tatar cuisine
---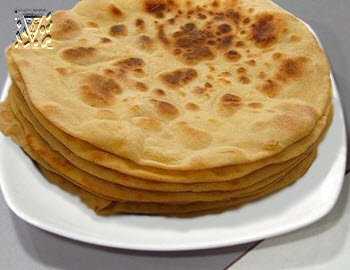 Often on a tea table at Tatars it is possible to meet an ancient national dish - yuka. Yuka in tatar - a flat cake. Flat cakes to tea hot move, for this purpose a pile of flat cakes put on the big plate and cover a linen towel that have not cooled down.
To prepare unleavened dough, to cut on slices on 100 g and to unroll round flat cakes in the thickness 1,5 — 2 mm, size more than a tea saucer which bake without fat or on hardly to the greased frying pan.
Ready flat cakes can be sugared, it is possible to grease with jam.

Yuka the special
Prepare rich fresh dough. Slices of the test in weight approximately in 100 g unroll in 1,5 mm in the thickness and bake on a frying pan without fat. Further arrive the same as in the previous recipe.

500-700 g meal, 200-250 g water or milk, 30 g sugar, 100 g oils, 2 eggs, salt
---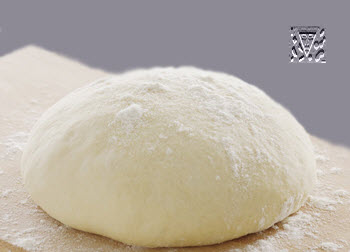 In Tatar cuisine the most widespread second dishes are products from the dough - balesh, gubadija, ochpochmak, peremech etc. And the Tatar cuisine section certainly would be incomplete without recipes of preparation of various kinds of the dough.
Yeast dough
In warm water (or milk) to dissolve yeast, to put sugar, fat, salt. It is good to mix and pour flour. Knead dough and at 2-3 o'clock to put in a warm place for fermentation. In the course of fermentation dough is recommended press down 2-3 times and again to allow to approach. When dough will start to fall down, means, it is ready.
For yeast dough preparation on 1 kg of a flour: water or milk 400-500 g, yeast 30-40 g, eggs 2-3 th, salts 12 g, sugar 50 g, fat 50 g.
Unleavened dough
Blend together water or milk, sugar, salt, eggs, oil. In the prepared mix to pour out the sifted flour and knead dough, so that it did not stick to hands. It is possible to do various products of the ready dough at once: peremech, shanga, gubadija, duchmak, etc.
For preparation of the unleavened dough of 1 kg: flour 600-700 g, water or milk 200-250 g, sugar 30 g, oils 100 g, eggs 2 , salt.
Dough for noodles and pilman.
Flour to sift, to pour out on a board a hillock. To make in it deepening, where to pour cold water or the cooled broth, to add eggs, salt and knead dough. Dough should be abrupt enough and viscous. Ready dough to divide into 2-3 pieces, to felt balls and to allow to rest 15-20 minutes, then spheres to unroll till the thickness in 1-1,5 millimetres. The unrolled dough to strew a flour and to leave for 10-15 minutes for drying.
For noodles on 1 kg of a flour: water or the cooled broth 200 g, eggs of 7, salt 30 g.
For pilman on 1 kg of a flour: waters - 300 g, eggs - 5, salts 20 g.
Tatar cuisine
---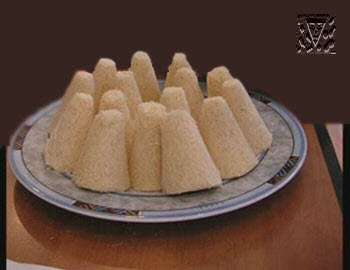 Gorabija prepares from the rich fresh dough. Butter carefully to knead, let out crude eggs, to put granulated sugar, a flour and knead dough (dough should be stiff and friable). To spread out dough in hundred-gramme forms, a few having sustained, to overturn on a frying pan oiled and to put in the heated stove.
Batch time in the hot stove of 20-30 minutes.
Gorabija is possible to prepare and from less stiff dough. In this case gorabija is baked in forms.
On 1 kg of a flour 10 pieces of eggs undertake. 300-400 g sugar, 300-350 g butter, salt to taste.
Palace-balesh
Pie with nuts. In a flour to add cream, the water, a little the melted fat, two eggs, salts to taste and knead dough less stiff, than for house noodles. Dough to divide into seven equal pieces. To unroll one piece a thin layer, to shift on the oiled frying pan and plentifully to grease with melted butter (dough should support frying pan edges).
To split walnuts, to crush kernels (if kernels crude, preliminary to dry them in the stove), to mix with equal quantity of granulated sugar and to divide the received stuffing into seven equal parts. One part to strew dough for a frying pan. After that to unroll the second piece of the dough, to strew other part of a stuffing and carefully make gathers dough that the folded circle in size about a tea saucer has turned out, and to put it on a frying pan, on the first layer of the dough. From the remained pieces of the dough to prepare the same wrinkled mugs and too to shift on a frying pan against each other. The pie is put in the heated furnace of average heat.
When the pie will blush, to water it from a spoon with in advance prepared syrup (3 glasses sugar, dissolved and boiled in 1 glass of water) and again to put in the furnace.
Ready pie to cool, without removing from a frying pan, to cut and, beautifully having laid in a vase, to submit on a table.
On 800-900 g flour undertakes: 1 glass of cream, 1 glass of water, 600-800 g crushed walnuts, 20-30 g fat, 1,2 kg sugar for cover nuts and syrup preparation, oil for frying pan greasing.
Tatar cuisine
---