The tatar cuisine is delicious and useful.
Long since Tatars are famous for the culinary art. The ethnic cuisine does life of these great people more richly also is more significant. Still with to the Mongolian times Tatars conduct a settled way of life in which basis agriculture and for this reason so

Tatar cuisine

with products from the dough is rich lies. Perhaps any kitchen of the world cannot brag of such love to bread. It is not less various and meat dishes on which leave its mark the neighbourhood with nomad tribes and religious features of the people. Tatars do not prepare pork but there are no better masters in processing of a horse-flesh, mutton and beef. However get acquainted with this fine kitchen on site pages and do conclusions.
_______________________________________________________________________________________________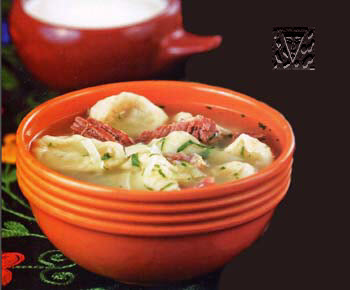 Salma is flour dish as cockleshells, a very widespread among Tatars. He is prepared on meat-broth and on decoctions. Salma can be cooked with a potato, bow, carrot, peas, lentil. Salma, cooked on decoction, refuel a bow, toasted on oil. Usually salma eat with katyk.

Salma make out of wheat, buckwheat, lentil or peas flour. In a cup or on a hardboard to put flour, add eggs, put to liking salt and, pour the cooled clear soup, to knead dough, as for a noodle. To cut the prepared dough to pieces for 100 g. and to roll him in plaits in a no more than 1 sm thick, to cut ball and to lick into to them the shape of "cockleshells", pressing down a thumb the middle of every ball.

Soup from mutton with salma

To wash mutton, cut, put in a pan, fill water and to put on a fire. To put salt after 15-20 min till meat will weld. To take out the prepared meat, filter clear soup and again put on a fire. To put cut by groups carrot and bow, after - a potato. Before a potato will weld, to put salma and cook, while she will not rise to the surface.

Meat by a bone-in - a 150 g, carrot - 15 g, bulb onion - 15 g, potato - 100 g, salma ready - a 40 g, melted butter - 10 g, salt, pepper.
---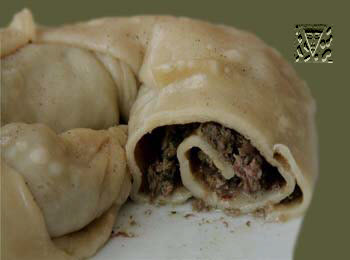 Tatar katlama is a beef roll, prepared on a pair, variety of dumpling.
For preparation of beef roll, meat and unleavened dough which is involved on the added some salt, milk with eggs and oil, will be required you.
To roll dough the same as for a noodle. To prepare the beef stuffing or finely cut a beef, adding onions, salt and pepper. To lay the prepared filling on dough a layer in a 1-1,5 cm, and to displace a meat loaf. To stick up the edges of meat loaf by dough, that meat juice did not flow out. To put the prepared meat loaf in a steamer or mantowarka and cook on a pair to readiness. Then to put a meat loaf in a oiling frying pan, smear a top oil, to hold for some time in an oven, cut pieces in three centimetres thick and to give on a table.
Ingredients: dough - 100-150, beef (pulps) - 75-100, bulb onion - 25-30, salt, pepper - to the taste.
---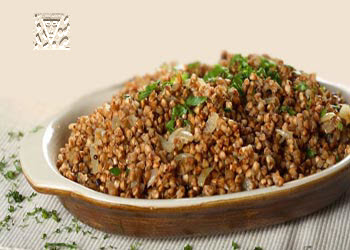 Botka like Tatar porridge. Botka prepares from groats. Groats here must be clean, well sorted out, washed-up and not to taste bitter.
A cachou can be cooked liquid, viscid and crumbly. At cooking to porridge add sugar, oil, milk, creams to liking, salt of and other. Porridge is given usually with a butter, milk and katyk.
Cream of wheat (liquid)
To pour in the pan of Milk, a bit water, put on a fire and give to begin to boil; to add salt and granulated sugar. Stir slowly, add a semolina and cook about 10 minute. To put the prepared cachou in piattis, pour a butter and to give on a table.
semolina - 50 g, milk - 150 g, water - 50 g, sugar - a 10 g, oil - 20 g, salt.
Buckwheat porridge
Heat an empty pot on the stove, wash the buckwheat with cold water and pour it into the empty pot. Add a big spoonful of butter and roast the concoction for five to ten minutes while mixing it every few minutes. Add salt and then carefully pour water into the pot.
Boil the porridge for about 30-40 minutes, mixing it every once in a while, especially towards the end. You can add some more butter, too. The porridge is ready when all of the water has been absorbed. Let it sit for five minutes or so and serve with butter on top.
Buckwheat groats - 100 g, water - 200 g, oil - 20 g, salt.
Boiled rice
To wash rice several times in hot water, to put in boiling water and boil during 5-8 min After to cast aside on a sieve or colander. Pass through a sieve, put in boiling milk and cook 15 min. When porridge will begin to thicken, add salt and granulated sugar, densely to close and cook on a weak fire 20-30 min
Rice - 70 g, milk - 100 g, water - 150 to sugar - a 10 g, oil - 20 g, salt.
Tatar cuisine
---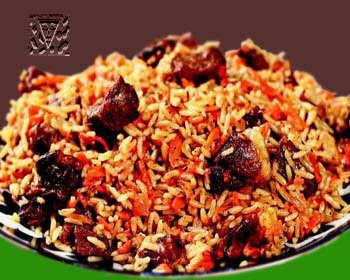 Pilau is a hearty dish made from deep fried meat and vegetables, over which rice is cooked.
Pilau is considered a national dish in many countries of Central Asia and the Near and Middle East. It is generally popular over most of the area that the Soviet Union once covered and more. The Turkish saying says of : there are so much types of pilau, how many cities are in the moslem world. The Kazan pilau is most widespread in Tatarstan.

Kazan pilau
To sort out rice, wash several times by hot water and to cook to semireadiness. In a shallow caldron to melt oil or fat, put there cut by small blocks or bars the boiled meat (mutton, beef or young horseflesh), on him are groups of carrot and onions.
On vegetables to put the rice cooked to semireadiness, add a bit clear soup and, not mixing, on 1-1,5 hour to put on a weak fire in the closed tableware. To lay out the prepared pilau in a large dish or it is possible to give to each in a separate dish. Before a serve in a pilau add the raisins, dried apricots without stones.

Meat - 200 g, rice - 65, oil melted - 30 g, onions - 24 g, carrot - 20 g, raisins or dried fruit - a 30 g, salt, pepper to liking.
---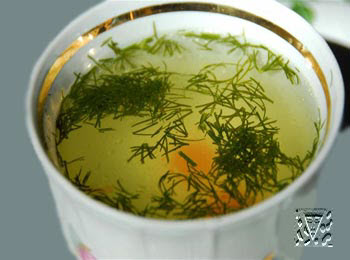 A considerable place in the Tatar kitchen occupies shulpa (broth). Shulpa season with onions, carrot, parsley, pepper, laurel sheet, and she is meat, fish, vegetable and mushroom.

Shulpa meat.
To wash meat, not pressing out juices, to cut to pieces weighing 300-350. After to put in a pan, add cold water, to cover a lid and to put on a fire. Warming to regulate so that there was not the stormy boiling, otherwise shulpa will become turbid. Scum, appearing at boiling, it is needed from time to time remove, otherwise she will settle on a bottom and her it will be difficult to separate from shulpa. If scum already had time to settle, it is needed to add cold water to broth, and she will emerge. After the removal of scum, shulpa is necessary to give again to begin to boil. If meat for preparation of shulpa was fat, part of fat, floating in on a surface, is needed to take off and use for toasting of onion.
Salt in broth is added for 20-30 minutes to the end of cooking.
Meat usually is boiling 1,5-2 hours. To lay out the prepared meat in separate tableware, and filter shulpa through a colander or clean gauze. Meat can be used for the second dishes.
Meat shulpa is possible to cook with a carrot, parsley (by a root), turnip and onions. Greenery and vegetables (whole or bisected) are laid only after the removal of scum. When they will weld, them is necessary to take out from shulpa.
Meat shulpa is used for preparation of different soups - with groats, noodle, vegetables, and also for meat dumplings.

On 1 kg of meat : a 1,5-2,0 litre of water ( depending on the capacity of tableware). 15 g of onions, 15 g of carrot and 12 g of root of parsley.

Shulpa bone.
For preparation of bone shulpa is possible to take tubular and flat bones: humerus, shins, thigh-bone and other.
To dissociate meat from bones (to use flesh for preparation of other dishes).
To cut the washed bones, put in a pan, inundate cold water and to put on a strong fire.
When water will begin to boil, to reduce a fire. Bone shulpa is boiling 2,5-3 hours. 20-30 minutes prior to a complete to put salt, carrot, parsley, onions, laurel sheet. Prepared shulpa to filter.

On 1 kg of bones : a 1,5-2,0 litre of water, 15 g of onions, 15 g of carrot and 12 g of root of parsley.

Shulpa chicken.
To put a geared-up hen in a pan and inundate cold water. On a strong fire to take to boiling, to take off scum, and to reduce a fire and cook about 1 hour. Then to put a carrot and onions in broth, add salt. To take out the boiled hen from broth. To delete a carrot and onions. Prepared shulpa to filter.

on 1 kg of hen : 1,5 л of water, 1 carrot, 1 head of onions, salt to liking.
---