The tatar cuisine is delicious and useful.
Long since Tatars are famous for the culinary art. The ethnic cuisine does life of these great people more richly also is more significant. Still with to the Mongolian times Tatars conduct a settled way of life in which basis agriculture and for this reason so

Tatar cuisine

with products from the dough is rich lies. Perhaps any kitchen of the world cannot brag of such love to bread. It is not less various and meat dishes on which leave its mark the neighbourhood with nomad tribes and religious features of the people. Tatars do not prepare pork but there are no better masters in processing of a horse-flesh, mutton and beef. However get acquainted with this fine kitchen on site pages and do conclusions.
_______________________________________________________________________________________________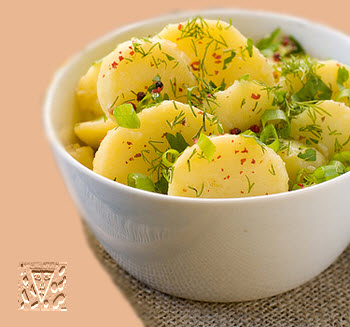 Potato in a skin to boil, give to him to get cold, clean, cut on two or four parts (depending on the sizes of tubers), to put in a salad-dish, add salt, black ground pepper, to sprinkle with the finely shredded bow, to pour vegetable oil, sour cream or mayonnaise.

Potato boiled - 100 g, bulb onion - 15 g, oil vegetable - 15-20 g, sour cream or mayonnaise - a 30 g, salt, pepper.

Salad a potato like Tatar

To boil a potato, clean from a skin and cut shallow blocks. Then in a deep vessel to mix him with the finely cut onions, boiled egg and prunes without stones. To add the also cut greenery of dill, mayonnaise, salt, pepper, all of it to mix and put on a cold. After it to put in a salad-bowl.

On a 1 portion: boiled potato - a 80 g, onions - a 20 g, prunes - a 30 g, .mayonnaise - a 40 g, an egg is 1/2 th., other to liking.
---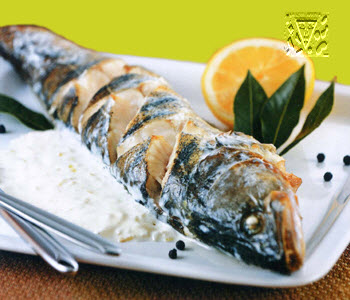 Cleaning fish, disembowel, is good to wash. To rub salt and pepper inside-outside. In a round form for baking to infuse into vegetable oil, lay out fish, inundate sour cream. To bake fish tebese in an oven, warmed-up to 200ОС, during 15-20 minutes.
To clean onion, finely to cut. To get a form from an oven, to cover fish a onion and bake yet about 15 minutes.
To serve a dish up hot, not shifting in other tableware.
Composition: 2 small pike perches (it is possible the European carp, carp) an about 300 g each, salt, ground black pepper, 1 spoonful of vegetable oil, 1 glass of sour cream, 2 middle onion
Tatar cuisine
---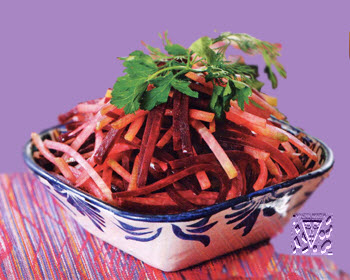 To wash down a radish, clean from a skin, rub on a large grater or cut a thin straw. To lay out a radish in a deep bowl, dress the salad with salt, pepper and vinegar to liking, to infuse into vegetable oil and put in a refrigerator on 10-15 minutes.
To boil a beet in a skin to readiness (about 40-59 minutes), after to cool, clean, rub on a large grater or cut a thin straw. To wash greenery, shake off water.
To add a beet to the bowl with a radish, to mix and serve salad up, adorning sprigs by fresh greenery.
Composition: 2 middle green radish, salt, black pepper, 1 teaspoon of 6% vinegar, 2 spoonful of vegetable oil, 2 middle beets, 4 sprigs of parsley, 4 sprigs of dill.
---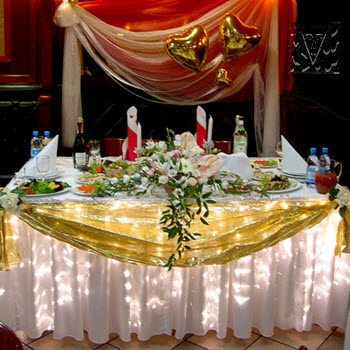 Meeting of New Year in Tatarstan is usually begun at 11 o'clock evenings. On a festive new-year table put different salads, cold snacks, jellied, fried fish, fruit (tangerines, oranges, apples), salt cabbage, tomatoes, wheat and rye bread, mineral waters, juices and champagne.
A new-year table usually is not large: on 8-12 persons. Therefore cold snacks put in one general dish. Soups do not give to the new-year table. However hot dishes give two times - to New Year, usually, fish dishes and after stew or fried meat (mutton, veal or beef) with a potato on garnish; meat dumplings, pilau, stuffed goose or hen, ochpochmaks, peremech et cetera. In the end give tea or coffee. With tea put sugar, jams, candies, with coffee sugar, hot milk or creams. Sweet baleshes add to the tea-table, also cakes, kosh-tele et cetera.
---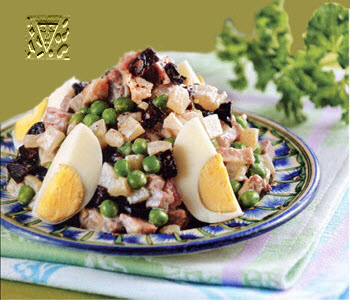 Cold boiled meat (beef or chicken), salted cucumbers without seed and skin, the prunes washed and stoned are cut with shallow blocks. Foods are laid in deep tableware, add a green pea, mayonnaise, salt, pepper, all be well mix and lay in a salad-dish a hill. Salad is decorated by egg quarters, canned fruit and greenery.
Composition: meat - 50-60 g, salted cucumbers, green pea - 30 gs, mayonnaise - 40-50 g, eggs - 1 th., canned fruit - 40- 50 g, prunes - 20 g, salt and pepper to liking.
---