The tatar cuisine is delicious and useful.
Long since Tatars are famous for the culinary art. The ethnic cuisine does life of these great people more richly also is more significant. Still with to the Mongolian times Tatars conduct a settled way of life in which basis agriculture and for this reason so

Tatar cuisine

with products from the dough is rich lies. Perhaps any kitchen of the world cannot brag of such love to bread. It is not less various and meat dishes on which leave its mark the neighbourhood with nomad tribes and religious features of the people. Tatars do not prepare pork but there are no better masters in processing of a horse-flesh, mutton and beef. However get acquainted with this fine kitchen on site pages and do conclusions.
_______________________________________________________________________________________________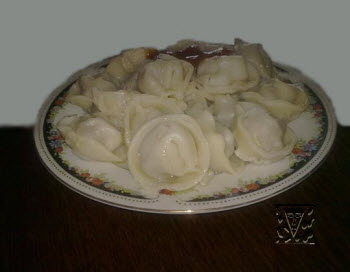 Pilman (the Tatar equivalent of pelmeni) are a traditional dish in Tatar cuisine, where they have always been served with clear soup

It is unclear when pelman entered the cuisines of the indigenous Siberian people and when they first appeared in Tatar cuisine. One theory suggests that pelman, or stuffed boiled dumplings in general, originated in China (thus explaining the use of spices such as black pepper, which are not native to Tatarstan and had to be imported) and were carried by the Mongols to Siberia and the Urals, from where they gradually spread as far as Eastern Europe

Pilman with potato
To cook a potato, to pour out water and dry a little a bit on a fire. To crush a hard-baked potato in a wooden mortar, break up a raw egg there, to put oil, infuse into milk, salt, pepper. In the pounded potato it is possible to add the fried onions, and stuffing for the meat dumplings of goths
To roll
dough
not wiredrawn and to cut out a form on disk by a diameter in 6-7 см. On every disk to put little by little stuffing, to lay down a disk in half and pinch together the edges of dough. Not to connect tags - meat dumplings with a potato have a form of half moon.
To put meat dumplings into the boiling added some salt water or clear soup, boil and cast aside on a colander.
on a 1 portion: a 75 g of dough, 100 g of the potato stuffing, 30 g of sour cream, 25 g of oil
---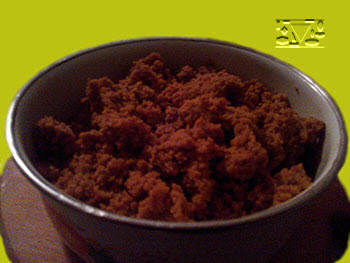 To boil milk. To add to boiling milk of katyk (type of soul-milk product) and continue boiling to formation of qort. Qort it is necessary to boil to turning red, after to add sugar and take to the state when all liquid will boil away. To lay out the prepared qort on separate tableware to cool. A cold qort is given with a dairy butter.
It is possible to take curds with addition of milk and boil to formation of qort.
For the protracted storage a qort can be dried up in a stove, to the oven or in the sunshine.

On a 1 litre of milk undertakes a 100 g of katyk, 40 g to sugar. Or a 1400 g of fat free curds of a 230 g of sugar, 500 g of milk

Qort from kefir

Kefir to infuse into in tableware and put on a strong fire. When a liquid will boil away, a fire needs to be decreased and continue to boil at the continuous stirring. Mass becomes yellow, moisture evaporates and a qort remains as yellow grains. The prepared qort can be used for filling in Gubadija, and also to eat with dairy butter, honey. If a qort prepares for Gubadija, then in him it is necessary to add sour cream or dairy butter (melted), sugar, all to put on a fire and it is good to mix. Thick homogeneous mass which can be used for filling turns out.
---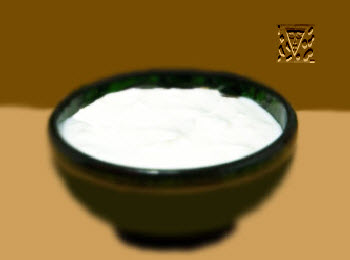 In Tatarstan very much many dishes are prepared from milk. He is added and in dough and in a porridge, katyk prepare from him, suzma, butter and tea drink usually with milk. Katyk spreaded in most Turkic countries. The feature of this soul-milk product is that he prepares from the boiled milk, but not from raw. Katyk use and as drink and for preparation of different national dishes.

At first prepare a ferment. The best ferment katyk of previous day serves as, thus, than older fungi of katyk, so much the better. In case of absence of katyk for a primary ferment it is possible to use the curdled milk. For preparation of the curdled milk take 1 litre of fresh, better pair milk, will put in him a 100-150 g of sour cream and put on twenty-four hours in a warm place.

Outpour milk in a pan and melt on a slow fire at stirring so that it did not begin to boil here, and only heated to the temperature approximately 90°С. It creates more dense consistency of katyk, and also conduces to almost complete absence of sediment as a serum. After melting filter milk through an easy cottonade or through a gauze. After filter there must be a resilient clot of sweetish taste in a gauze. Put milk to cool off. The temperature of milk, which катык is leavened at, must not exceed 40°С.

Pour warm milk in porcelain, ceramic, glass, but only not metallic tableware. A ferment infuse into in warm milk, carefully and evenly stir in him. After it close tableware a saucer, wrap up with anything warm and leave in a warm room on 8-10 ч. Then carry tableware in a cool apartment for the compression of clot.

Good katyk has dense, homogeneous, without grains consistency and pleasant refreshing taste.

On 1 litre milk: 100 g ferment.
---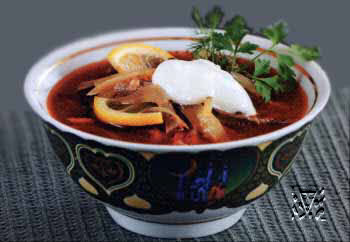 To soak prunes in hot water on 20-30 minutes, after to wring out and cut strips. To shred meat and byproducts a thin straw. To clean cucumbers from a skin and seed, cut bars. To clean bow, cut thin semirings.
In a frying pan to warm up a dairy butter, brown on him bow and cucumbers to mildness (7-8 minutes). To divorce tomato paste the small amount of clear soup, to add to the frying pan and stew vegetables yet about 3-4 minutes.
In a pan to infuse into clear soup, put meat, byproducts, vegetables and prunes, salt, pepper to liking. To take soup to boiling and cook on a middle fire during 10-15 minutes.
At a serve to add the spoon of sour cream or katyk and slice of lemon to every dish.

Composition: a 200 g of prunes without stones, 200 g of the boiled beef, mutton or horseflesh, 100 g of the boiled beef buds or language, 4 middle salt cucumber, 3 middle bulbs, 1-2 tablespoon of dairy butter, 3 tablespoon of tomato paste, 2 litr of meat-stock, salt, ground black pepper, 8 tablespoon of sour cream or katyk, 8 slices of lemon
---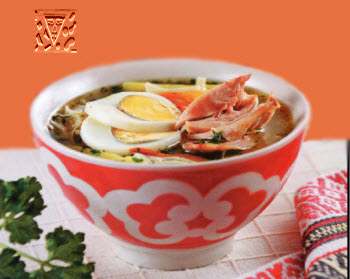 Tockmach do on clear soup from a beef, mutton, hen or turkey. He can be prepared with a potato or without a potato.

To wash down a potato, bow and carrot and clean. To cut a potato shallow bars. To cut bow and carrot a straw and to brown on vegetable oil. Clear soup to infuse into in a pan, take to boiling, put a potato, add some salt and cook during 10-15 minutes on a middle fire, after to add brown vegetables. In a separate pan to boil the added some salt water, put a noodle and cook 2-3 minutes, after to cast aside on a colander, give to water to flow. To add a noodle to soup and boil thoroughly during 5-7 minutes after boil. To cut chicken meat small slices, to lay out on drinking bowls, inundate soup, pepper to liking and to serve a dish up hot, sprinkling with greenery.
In prepared tockmach possible to add the pieces of the boiled egg.

Composition: 3-4 large potatoes, 2 middle bulbs, 1 middle carrot, 1 tablespoon of vegetable oil, 2 l of chicken clear soup, salt, 150 g of domestic noodle, 150 g of the boiled hen, ground black pepper, parsley, dill.
---