The tatar cuisine is delicious and useful.
Long since Tatars are famous for the culinary art. The ethnic cuisine does life of these great people more richly also is more significant. Still with to the Mongolian times Tatars conduct a settled way of life in which basis agriculture and for this reason so

Tatar cuisine

with products from the dough is rich lies. Perhaps any kitchen of the world cannot brag of such love to bread. It is not less various and meat dishes on which leave its mark the neighbourhood with nomad tribes and religious features of the people. Tatars do not prepare pork but there are no better masters in processing of a horse-flesh, mutton and beef. However get acquainted with this fine kitchen on site pages and do conclusions.
_______________________________________________________________________________________________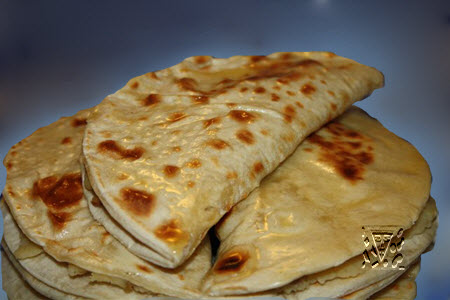 In some places kystybyj name kuzikmak or jakmysh. Usually he is prepared from a unleavened dough. Filling can be different, mostly it is a potato, rarer than porridge or poppy.
Kystybyj with a potato
To cut unleavened dough to pieces for 75 g, to roll on thin small cakes and bake on a burning hot dry frying pan to the rosy crust. To cover the prepared small cakes a napkin, that they did not harden and did not get cold.

Filling is made out of the mashed potatoes with hot milk, kindled by oil and passed onions.

Filling is laid on a half yet hotter than small cake and cover the second half. Smearing prepared kystybyj the drowned oil give in a hot kind to tea.

On 1 kystybyj: a 75 g of unleavened dough, 100 g of potato, 20 g of onion, 20 g of milk, oil for greasing of kystybyj 20 g
Kystybyj with a poppy
To sift a poppy and soak in hot water. To cast aside a dropsical poppy on a sieve and, giving to flow to water, to pound in a mortar. Then to add a bit sour cream and saccharine to sand. To inlay the got mass in arcuated twice small cakes.

On 1 kystybyj: a 75 g of unleavened dough, 80-100 g of poppy, 20 g of oil, 20 g of sour cream, 20 g of sugar.
Tatar cuisine
---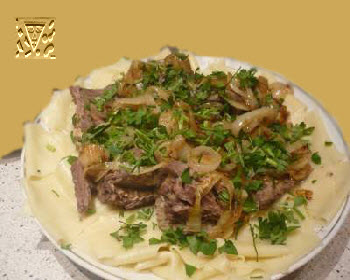 Bishbarmak
Bishbarmak is favourite food Kazakh, Kirghiz people, greatest food for guests.

The cleaned, washed meat of mutton is cooked by hunches, adding salt, pepper, laurel sheet. Fat from clear soup is constantly taken off. The prepared meat is cut cross-grained by thin wide slices (approximately 4x4 cm), inundate fourth part of clear soup, adding the finely cut onion, pepper, spicy greenery.
For a noodle from a flour, egg, water and salt to knead dough, roll him in a layer in a 1 mm thick, to cut large squares (6х6 cm) and to boil in clear soup, got at cooking of meat, with addition of head of onion and parsley.
To lay out the prepared noodle in deep piattis, pour by warmed-up fat, taken off from clear soup, to sprinkle with a pepper, greenery of parsley and ramson, from above to put a hill geared-up meat (both pulp and meat cut by slices with bones) and to inundate everything small part of clear soup.
Remaining part of clear soup meat cooked in which, to connect with clear soup a noodle was boiled in which, warm up and give separately in drinking bowls, sprinkling with a ramson and parsley.

on a 1 portion: a 150-200 g of meat, 60-70 g of onion, 60-80 g of flour, 1/5 part of egg, other to taste.
Tatar cuisine
---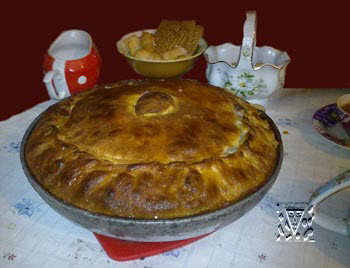 Balesh prepare with the different filling it and mutton, beef, bird, fish, groats and vegetables (potato, carrot, cabbage et cetera), can be even fruit-baccate balesh.

Potato balesh with meat.

Fresh dough is rolled by a skim; For filling there is the finely cut potato, fried on oil onions, finely chopped beef meat, salt, a pepper is prettily mixed. This filling is laid on geared-up dough (preliminary laid out on the frying pan smeared by oil) and cover the second layer stick both layers together inter se and beautifully adorning. From above smearing a vitellus put prepares in a gas-furnace. To the table give on a frying pan.

on 1 balesh: a 600-800 g of douth, 1,2 kg of potato, 500-600 g of meat, 200 g of onions, salt, pepper - to liking.
Tatar cuisine
---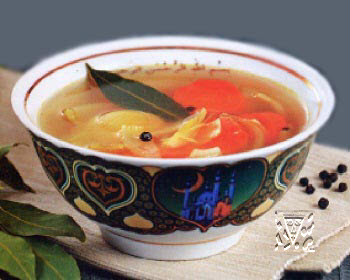 Oyre (soups of groats) : wheat, rice, buckwheat, avenaceous et cetera. Except groats, in soup it is possible to put a potato, bow, carrot and other vegetables then oyre will be more thick and saturated. Oyre cook in cast-iron, in a stove, but it is possible to cook and in an ordinary pan on a fire. When ojre prepares in cast-iron, all foods are mortgaged simultaneously and inundated by water. To this time to be stove must be melted, coals and ash it is necessary to rake out, cast-iron densely to close a lid and to put in a stove.

Oyre with buckwheat

In filtering meat-stock for preparation lay the well washed buckwheat groats, when will begin to boil, add the large cut potato and by groups carrot, onions warmed-up melted butter shredded by rings. To liking lay salt, pepper, at the end of cooking is a laurel sheet. Taken to readiness. At a serve the piece of meat is laid in every dish, buckwheat oyre is sprinkled with greenery.

That soups, prepared with groats, did not become cloudy, groats can be boiled separately and in the end to connect with other foods.

On one portion: meat by a bone-in - a 100 g, bulb onion - 20 g, carrot - 20 g, potato - 100 g, groats buckwheat - 60 g, oil melted - 10 g, salt, pepper, laurel sheet.
---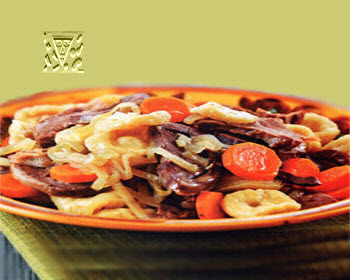 Method
To prepare salma: to roll unleavened dough in plaits in an about 1 cm thick, cut marbles and to lick into to them the shape of "ears", pressing down a thumb the middle of every marble..

Prepared salma to boil to readiness in the added some salt water (12-15 minutes after emerging), after to cast aside on a colander, tuck in the melted butter.

To cut the boiled meat and heart slices cross-grained. To clean onion and carrot, cut groups.

To lay out vegetables in a deep pan, to inundate clear soup, to add the a bit melted butter, salt and pepper to liking, to extinguish to readiness 20-25 minutes.

To lay out collops and heart on the bottom of frying pan, from above to put salma, inundate a geared-up vegetable sauce, to cover a lid and to extinguish in a flow
15 minutes. To serve a dish up hot.

Ingredients: a 400 g of the prepared unleavened dough, salt, 50 g of the melted butter, 600 g of the boiled beef, 300 g of the boiled beef heart, 2 onions, 1 large carrot, 1 glass of meat-stock, ground black pepper.
---