The tatar cuisine is delicious and useful.
Long since Tatars are famous for the culinary art. The ethnic cuisine does life of these great people more richly also is more significant. Still with to the Mongolian times Tatars conduct a settled way of life in which basis agriculture and for this reason so

Tatar cuisine

with products from the dough is rich lies. Perhaps any kitchen of the world cannot brag of such love to bread. It is not less various and meat dishes on which leave its mark the neighbourhood with nomad tribes and religious features of the people. Tatars do not prepare pork but there are no better masters in processing of a horse-flesh, mutton and beef. However get acquainted with this fine kitchen on site pages and do conclusions.
_______________________________________________________________________________________________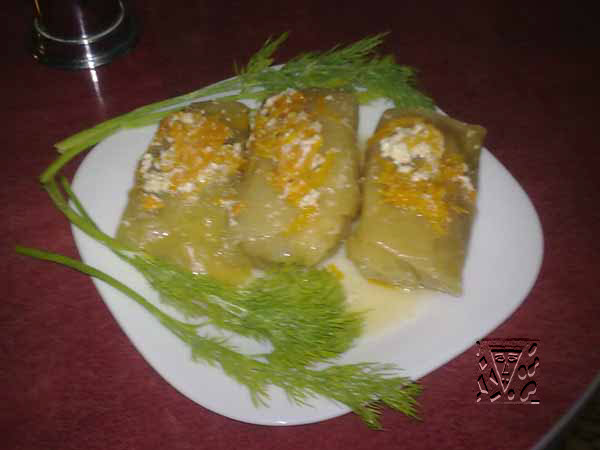 Tulma (dolma) is a family of stuffed vegetable dishes in the cuisines of the former Ottoman Empire and surrounding regions such as Russia, Iran and the Caucasus and Central and South Asia.

Method
To take the loose head of cabbage, that leaves easily moved away from each other. To cut away hard parts of large leaves. To put these leaves into the boiling added some salt water on 5-10 mines, to boil thoroughly and cast aside on a sieve. To remove Thick parts of cabbage a rolling-pin. Fat mutton or beef with a onion to skip through a meat grinder. Then to sprinkle with salt and pepper and carefully to mix. To meat to add the boiled rice (at pleasure it is possible to take millet groats), moistened in salt water, and to mix. It is possible to put a passed onion in stuffing. On the chilled leaves of cabbage to put meat with rice to wrap up, licking into to good an oblong shape. To dip prepared tulma in the stirred raw eggs or smear a raw egg. Stuffed cabbages slightly to toast on a hot frying pan, after to put, in shallow tableware (in a pan, large frying pan), to inundate the specially prepared sauce, to put a laurel sheet and extinguish 30-40 min

Preparation of sauce. To kindle oil, put the cut onion, carrot, tomatoes or tomato-puree and put on a fire, after a while to add water, salt, sour cream, pepper and cook 10-15 min the Prepared stuffed cabbages give for two things in a dish and pour a sauce.

For a recipe required you: cabbage - 200г, meat (pulp) - 100-200г, rice - 15г, onions - 90г, tomatoes - 10г, sour cream - 50г, sauce - 50г, salt, pepper - to liking.
---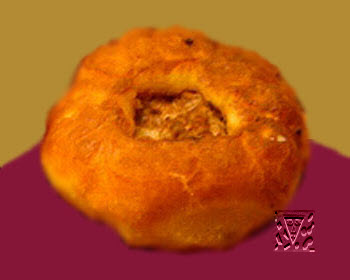 Peremech
These succulent meat pies are Tatar in origin, very much like the Kazakh belyashi enjoyed throughout Russia. These peremech, typical for a Tatar meal, should be eaten right from the frying pan, juicy and hot.
Method
Beat the eggs until light, then beat in the soured cream, single cream, salt, sugar and flour. Knead until smooth and elastic. Wrap the dough in waxed paper and refrigerate overnight before using.
In a food processor or mincer, mince all the filling ingredients together finely.
Prepare the meat pies: working with one-quarter of the dough at a time (leave the rest in the refrigerator), roll out each piece into a 12 in (30 cm) rope. Cut each rope into 6 pieces, then roll the pieces into balls between the palms of your hands. Flatten the balls slightly, and on a floured surface roll each ball out into a round 3½ - 4 in (9-10 cm) in diameter. Spread 1 tablespoon of meat mixture on each round, leaving 1 in (2.5 cm) around the edges.
To shape the meat pies, gather the dough in little pleats all the way around the patty, using an upward, folding motion. The result should be a round, flat pastry with a hole the size of a five pence piece in the middle. As each patty is made, place it on a linen cloth and cover with another cloth so that the pastries do not dry out.
Pour vegetable oil into a large frying pan to a depth of ½ in (12 mm). Heat it, and once it is hot add the peremech, a few at a time, hole side down. Cook the meat pies, turning once, for about fifteen minutes or until golden brown.
Ingredients:
Makes 2 dozen meat pies.
Dough
6 tablespoons single cream, 2 eggs, beaten, Pinch salt, 4 fluid oz (120 ml) soured cream, Pinch sugar, 10 oz (280 g) plain flour
Filling
1 lb (450 g) boneless lean beef chuck, 1 onion, 1 clove garlic, 1 teaspoon salt
Tatar cuisine
---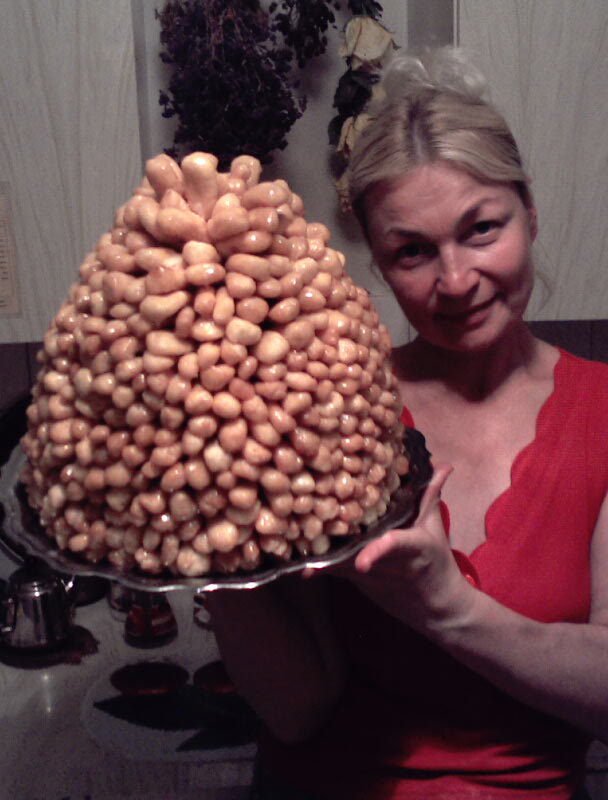 Chak-chak
It is particularly popular in Tatarstan and Bashkortostan, and is recognized as Tatarstan's national sweet.

Chak-chak is made from unleavened dough cut and rolled into hazelnut-sized balls, which are then deep-fried in oil. Optionally hazelnuts or dried fruits are added to the mixture. The fried balls are stacked in a mound in a special mold and drenched with hot honey. After cooling and hardening, chak-chak may be optionally decorated with hazelnuts and dried fruits.
On 1 kg of wheatflour : 10 eggs, 20-30 g of castor sugar, salt; 500-550 g of oil; 0,9-1 kg of honey, 150-200 g sugar; to adorn a 100-150 g of fruit drops.
Tatar cuisine
---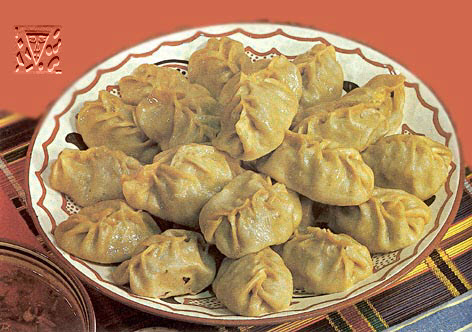 Manti are a type of dumpling in Turkish.
Manti were carried across Central Asia to Anatolia by migrating Turks in the Chingizid-Timurid periods. According to Holly Chase, "Turkic and Mongol horsemen on the move are supposed to have carried frozen or dried manti, which could be quickly boiled over a camp-fire". In Turkey it is also called Tatar bureks.
Mutton and onion are finely chopped, mix carefully, refuel salt and pepper. From unleavened dough roll small cakes, on the middle of which lay stuffing and piece fat of sheep's tail; the edges of small cakes nip, giving a round form to the wares. Manti boil on a pair give, inundating meat-stock and sour milk, sprinkling with a pepper and greenery.

Mutton 35, fat of sheep's tail 7, onions 35, flour wheaten 40, water 20, milk sour 20, pepper, greenery, salt.
---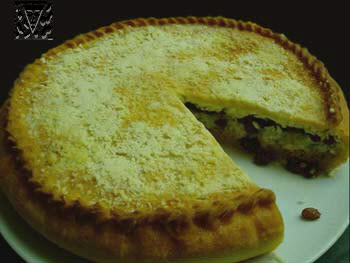 Usually gubadija prepare for guests. Gubadija is a large, round pie with the multi-layered filling. As filling add a qort (tatar dry curd), boiled rice, fried onion with the chopped meat, finely cut egg, raisin/pl or dried apricots without stones or prunes. Every ingredient prepare separately.
Gubadija can be prepared as from unleavened so from yeast dough with plenty of oil. Gubadija can be meat and fruit. In fruit gubadija meat is not added and give to tea. Meat gubadija is good to hot, she is given to clear soups.
Fruit gubadija
There is the rolled dough to lay on the preliminary oiled frying pan. Then add from above, at first skim of boiled rice, after more thick layer of qort and again fig. by the Next layer the finely cut boiled eggs (4-5 mm) and again fig. Over rice proparasite raisin/pl or kuraga (dried apricots without bones or prunes). Abundantly pouring filling oil all of it is covered by the layer of test licking into the shape of pie adorning. We put in a stove and prepare approximately about 50.

On the frying pan of middle sizes : a 800 g of dough, 350-400 g of qort, 1-1,2 kg of boiled rice, 200-300 g of raisin/pl or other fruit, 8-10 eggs, 350-400 g of oil.
Tatar cuisine
---