The tatar cuisine is delicious and useful.
Long since Tatars are famous for the culinary art. The ethnic cuisine does life of these great people more richly also is more significant. Still with to the Mongolian times Tatars conduct a settled way of life in which basis agriculture and for this reason so

Tatar cuisine

with products from the dough is rich lies. Perhaps any kitchen of the world cannot brag of such love to bread. It is not less various and meat dishes on which leave its mark the neighbourhood with nomad tribes and religious features of the people. Tatars do not prepare pork but there are no better masters in processing of a horse-flesh, mutton and beef. However get acquainted with this fine kitchen on site pages and do conclusions.
_______________________________________________________________________________________________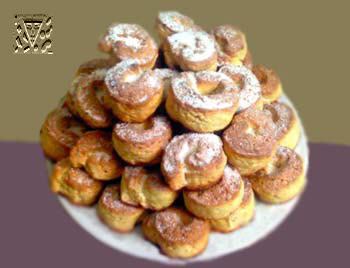 Tatar cuisine is very rich with various dishes and products to
tea
. Them prepare from a flour, applying fats, sweets, fruit. Usually these products decorate a tea table, therefore them do figured.
Figured Tatar bagels. Knead unleavened dough with a sugar and butter considerable quantity. To cut pieces in 200-300 g and to unroll in the form of sausage in the thickness 2 sm and 10-15 sm long. Make of figure sausages (shishara), to shift on a frying pan oiled, and to put in the heated stove or an oven. Submit to a table having strewed powdered sugar.
On 1 kg of a flour: 600 g butter, 300-400 g sugar, 1 glass of powdered sugar.
---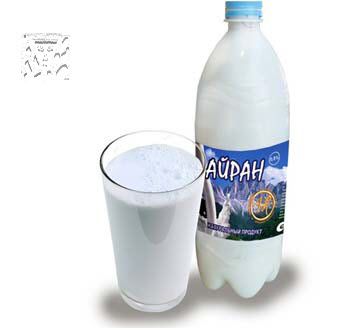 Ayran (a drink from katyk).
Ayran use, as a rule, in hot summer days. It can be submitted to a table with millet cereal or with mashed potatoes.
To pour in ware
katyk
and, stirring a wooden spoon, carefully to knead all lumps; having added in katyk the cooled boiled water, good to mix, and ayran is ready to the use.
For preparation ayran use the spring water, the cooled mineral waters. At will in ayran put granulated sugar or salt.
On 100 g katyk take 100 g cold water.
Koumiss
From the most ancient times koumiss is known among Tatars as a drink restoring force. Today the drink prepares basically in the medical purposes and consequently loses a secret of the preparation.
For koumiss undertakes filtered mare's milk, and added special ferment or good koumiss of the previous development (a half-glass on 1 litre of milk). All it well mixes up in a current of 20-30 minutes. The fermented milk densely close and put in a warm place at 3-5 o'clock, then again well disturb 20-30 minutes and in a warm place. Procedure is repeated by 3-4 times.
After that koumiss spreads on bottles, is corked with stoppers and maintained from days to three. Before the use ready koumiss shake up before foam occurrence.
On 1 litre milk take half glass ferment
Tatar cuisine
---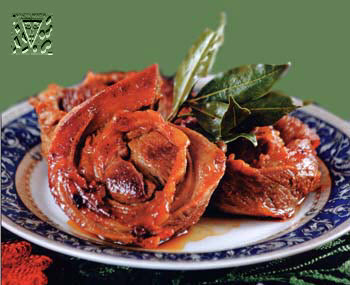 Hot snack from mutton widespread among the Nizhniy Novgorod Tatars. It prepare from mutton ribs.
Brisket good to wash out and dry, cut meat by ribbons width in two fingers. To lay out the cut meat in a soup plate, to salt, pepper, add vinegar, a bay leaf and good to mix. To cover ware and to put in a cold place at 2-3 o'clock.
In a frying pan to warm up vegetable oil, to roll up ribbons of meat by circles and to fry from both parties to readiness. To a table the dish moves in a hot kind.

On 1 kg mutton brisket: 2-3 table spoons 6% vinegar, 3-4 bay leaves, 2-3 table spoons vegetable oil, salt, pepper to taste

Tokmach-tel

The beef or mutton tongue having washed out in cold water, start in boiling not salty water. Having finished to readiness add salt. Ready tongue the hot shift in cold water (the cooled down tongue is well cleared of a skin). Clean tongue again not for long boil in salty water and then cut by noodles in 3-4 mm of width.
Again not for long boil. Separately fry onions. In a soup plate mix ready tokmach-tel with onions, sour cream having added to taste salt, pepper and having divided for the portions in a hot kind submit on a table.

For one portion: 50 g boiled tongue, 20 g fried onions, 40-50 g sour creams, salt, pepper
---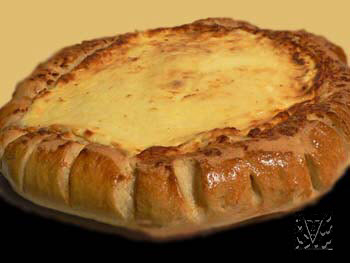 Durtmesh
In hempseed flour to add milk, egg, sugar, salt and properly to mix. The dense homogeneous weight will turn out. It will be a stuffing.
To prepare
unleavened dough
, to unroll a layer in half-centimetre and to lay on the oiled frying pan or sheet. On dough a uniform layer in 1,5-2 cm to put a stuffing. Dough edges to raise from four parties and to pinch so that the open square pie (durtmesh) has turned out. A pie to grease with raw egg and to put in the hot stove or an oven.
When durtmesh will bake, to oil it, to cut for the portion and to put on a table in a hot kind. In separate ware it is possible to submit
katyk
.
On 1 durtmesh: 100 g dough, a stuffing 120 g, eggs 1/4 , oils 15 g (for frying pan and pie greasing)
Tatar cuisine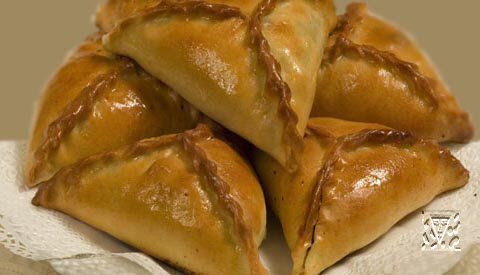 Ochpochmak is a Tatar national dish, an essential food in Tatar culture. Usually, öçpoçmaq is a triangular pastry, filled with minced beef, onion and potatoes.

Unleavened or leavened dough is rolled in small cakes by a size with tea saucer. On small cakes lay the prepared filling, the edges of dough raise from three parties nip, abandoning in the middle opening and giving shape to good triangle.

For filling fat meat and potato cut shallow blocks and mix up with the finely chopped onions, oil, pepper and salt. Filling it is necessary to prepare not all at once, by small portions. Triangles oil by yolks with milk, put in the heated broiler, in a half hour take out, infuse into through opening clear soup and continue to be stove. Before serving up in ochpochmaks infuse into clear soup and top smear with oil. Ochpochmaks is eaten with bouillon or with tea.

On 1 kg of dough : a 600-650 g of flour, 20-25 g of yeasts, 30 g of sugar, 1-1,5 eggs, 50-60 g of margarine, 100-120 g of milk, 150-200 g of water, 10-20 g of salt.

On one ochpochmak: a 60-70 g of potato, 30-35 g of burnt onion, 10-25 g of the melted butter, salt, pepper. 50 g finely carved.
---