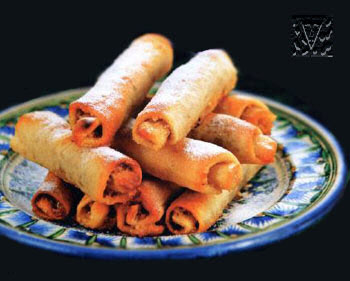 Barmak
Barmak in translation from the Tatar means a finger and a dish under the form will remind fingers
To pour out in a bowl sour cream, to add the kindled butter and salt to taste, to stir before reception of homogeneous weight. To pour the sifted flour and knead dough. To divide dough for slices and to unroll them in thin plates.
Stuffing preparation:
walnuts to crush, slightly to dry in an oven and to add granulated sugar. Then to add butter and to mix.
To lay out in the middle of a plate from the dough a stuffing, in regular intervals to distribute it and to roll dough in a kind of roll (or tubules). Everyone roll should turn out in diameter about a finger. "Fingers" to lay out on a frying pan and to bake in an oven to readiness.
Ready barmak to strew from above powdered sugar and serve up to tea.
On 400 g sour creams: 44 g butter, 500-600 g flour, salt to taste.
On 1 kg of nuts (or 400 g a poppy or 400 g hempseeds), 1,3-1,5 g sugar, 50-100 g butter
Tatar cuisine
---