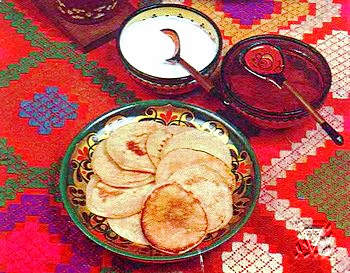 Kojmak
There is another kind of pancakes in Tatarstan, called Kojmak. They are little and very thick. You can put 5-6 kojmaks on the pan. The base of batter for kojmak can be buttermilk or sour milk or katyk. Mix eggs with buttermilk (katyk or sour milk). Add soda, sugar, salt and flour and mix thoroughly. The batter must be dense but liquid, if it is not, add more flour. Drain the batter so that there are no flour lumps in it. Pour a little vegetable oil into a pan. Heat the pan. Pour 5-6 little rounds of batter on the pan. Cook until light brown, about 2 minutes on each side. Servings: 5-6.
Ingredients: 4 c buttermilk or katyk, 20 tbsp flour, 3 tbsp sugar, 3 ea eggs, 2 tsp baking soda, 1 tsp salt
Salad from a cauliflower
Cauliflower and carrots cut by small slices. Add parsley and a celery. All ingredients mix in deep ware with vegetable oil and honey.
On 50 g a cauliflower: 1 carrots, greens (parsley, a celery), 1 tbsp of vegetable oil, 1 tbsp of honey.
Tatar cuisine
---