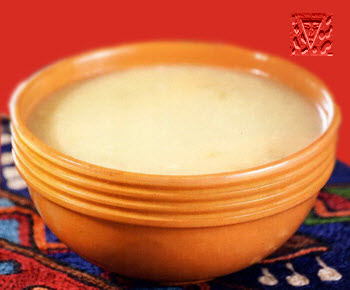 Umach
With umach possible to cook meat, dairy and lenten soups.
Umach is rubbed clean from wheaten, buckwheat, oat and rye meals. To fill in flour ware. Adding a broth or water (much less, than on dough for noodles and
chumar
), carefully to mix a flour: the formed weight to pound fingers before reception of small balls.
Ready umach to put in a boiling broth. That balls umach not stick together, it is necessary to put it, pounding both hands, and to cook stirring slowly.
For one portion: 35-40 g flour, 30-35 g a broth or water, salt on-taste.
Salad vegetable
Cucumbers to clear of a thin skin and to cut circles. Tomatoes to wash cold water, to cut segments. The boiled cooled turnip to clear of a thin skin and to slice.
Vegetables, without mixing, to lay in deep ware, to fill with salt, black ground pepper, to strew small chopped onions and to water with vegetable oil or sour cream.
Cucumbers fresh 50 g, tomatoes 50 g, turnips 30-40 g, onions 15 g, oils vegetative 15 g or sour cream 30 g, salt and pepper on-taste.
Tatar cuisine
---