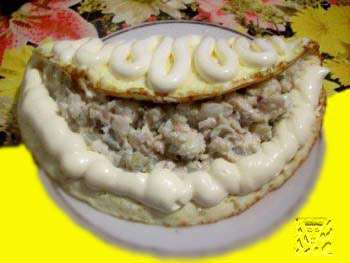 For preparation a potato, a cucumber and a fish are cut by cubes, add mayonnaise and well mix. The stuffing is ready.
From eggs and milk bake an omelette in the thickness no more than 3-4 mm. Cool and lay on it the prepared stuffing. Turn off in the form of an envelope and submit to a table, having watered with mayonnaise and having decorated with a green onions and parsley.

On 200 g boiled fish: 1 boiled potato, 1 pickle, 2 eggs, 1 tablespoon milk, 2 tablespoon mayonnaise, salt

Salad from a sorrel

Leaves of a young sorrel wash in cold water and cut strips in 2 sm in the thickness. In deep ware mix a sorrel, sour cream, salt and pepper. For taste possible to add a sugar. A ready mix to lay in a salad dish and decorated along the edges by leaves of a young sorrel with the cut boiled egg. From above we strew small cut dill.

On 100 g a sorrel: 40-50 g sour creams, 1 egg, salt, pepper
Tatar cuisine
---