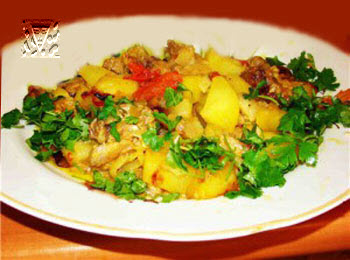 Kyzdyrma is a traditional Tatar roast which serve up in a cold kind. More often kyzdyrma prepare from a horse-flesh, less often use beef, mutton and fowl.

Horse-flesh pulp 500-700 g to wash, clear of sinews, to cut pieces long 15 sm and width 5 sm, to rub with salt, pepper, garlic and to fry on frying pan strongly warmed up with fat.
The fried meat to put in poultry roaster or a deep frying pan to impose from above with the chopped rings of onions, over onions plentifully to impose the crude potato cut by circle, then again to add spices - salt, pepper, a bay leaf. A dish to fill in with a broth or water, densely to close and extinguish to readiness.
Before a serve up, meat necessary to cut on small pieces, to shift on an oval dish, along the edges to spread out a potato, and from above to strew the fried onions and to water allocated at roasting with juice.
---