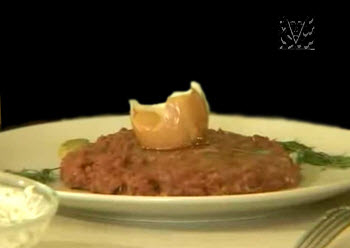 Steak tartare
Steak tartare is usually associated with both Parisian bistros and the Tartars who gave the dish its name. However, modern Tatar cuisine has very little the general with this dish.
Trim and grind the meat twice. Chop finely the onions and egg yolk. In a bowl, mix the egg yolk, onions, capers, mustard, Worcestershire sauce, Tabasco sauce, salt and pepper. Add olive oil and beat lightly for a few seconds. Add meat and parsley. Season with salt and pepper. Beat lightly for a few seconds. Refrigerate or serve immediately.
Ingredients: 600g beef fillet, 50g capers, 1 tablespoon of chopped parsley, 3 egg yolks, 7 drops of Tabasco, 1½ teaspoons of Worchester Sauce, 10g Mustard, 1 teaspoon of lemon juice
It is very important that you only use the freshest fillet of beef for this dish.
Tartar sauce
Mix all ingredients together in a bowl.
Ingredients: 1/2 cup good mayonnaise, 2 tablespoons cornichons, 1 tablespoon Champagne or white wine vinegar, 1 tablespoon capers, 1 teaspoon coarse-grained mustard, Salt and pepper to taste
Tatar cuisine
---