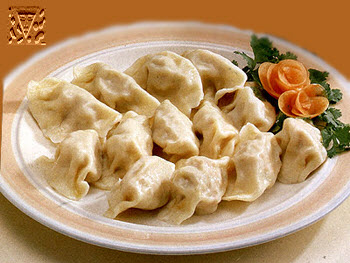 Earlier in the Tatar villages for visitors often did zhylgyr — the big pelmeni with a stuffing from hempseed flour.
The cleared grains of hemp at first are necessary for drying in an oven, then to shatter in a wooden mortar so that the peel has separated, and grains became mealy. Pounded hemp put in shallow ware and squeeze out fat by hands. In hemp should not remain fat, therefore this process lasts long enough. The received fat separate and filter, and the remained flour and a peel fill in with cold water. After a while the peel and the fat rests will rise upward, and the flour remains below. A peel and the fat rests collect by spoon, and a flour with water pass through a sieve. In 10—15 minutes water pour out, the flour remains at the bottom of ware. It fill in with hot water and put on fire. During boiling time the white flour rises upward, it collect in a colander and carefully filter. Dense, white, boiled hempseed flour turns out, in which add small cut onions, salt and mix to homogeneous weight, and the stuffing for zhylgyr is ready.
Then prepares dumpling dough, it is thin unrolled, and from it a glass cut out circles on which in advance prepared stuffing is put by 40—50 g. Edges of dough are pinched as at samosa. The pelmeni made thus cook in the added some salt water, in a broth or in milk.
Zhylgyr eat hot. To it submit with hempseed oil, katyk or sour cream.

For one portion: 300 g dough for pilman, 400 g stuffings, 1 onions, 1 litre of milk, the rest to taste.
Tatar cuisine
---