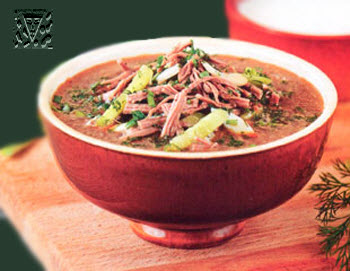 At first prepare grain kvass. Then a boiled egg yolk pound with ready mustard and granulated sugar. Add this mix in kvass and well having mixed, put for some time in a cold place. Small chop green onions and rub with salt. Boiled cold meat, a fresh cucumber and boiled egg cut long strips (by noodles). All products put in cold kvass and well having mixed, having added salts put for 30 minutes in a cold place.
Pour ready okroshka in the portions and having strewed small cut fennel submit to a table. Separately to okroshka submit
katyk
or sour cream. To cold soups at will it is possible to submit food ice.
For one portion: 300-350 g kvass, 80-100 g boiled meat, 50 g green onions, 50 g fresh cucumbers, 1 egg, 100 g katyk, salt, granulated sugar and the rest to taste.
Tatar cuisine
---