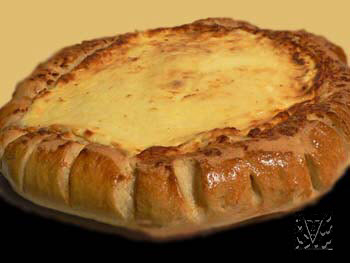 Durtmesh
In hempseed flour to add milk, egg, sugar, salt and properly to mix. The dense homogeneous weight will turn out. It will be a stuffing.
To prepare
unleavened dough
, to unroll a layer in half-centimetre and to lay on the oiled frying pan or sheet. On dough a uniform layer in 1,5-2 cm to put a stuffing. Dough edges to raise from four parties and to pinch so that the open square pie (durtmesh) has turned out. A pie to grease with raw egg and to put in the hot stove or an oven.
When durtmesh will bake, to oil it, to cut for the portion and to put on a table in a hot kind. In separate ware it is possible to submit
katyk
.
On 1 durtmesh: 100 g dough, a stuffing 120 g, eggs 1/4 , oils 15 g (for frying pan and pie greasing)
Tatar cuisine