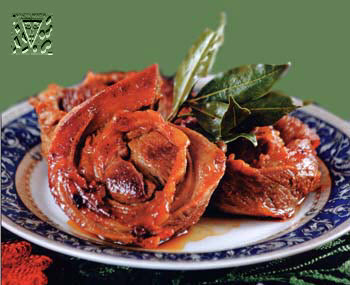 Hot snack from mutton widespread among the Nizhniy Novgorod Tatars. It prepare from mutton ribs.
Brisket good to wash out and dry, cut meat by ribbons width in two fingers. To lay out the cut meat in a soup plate, to salt, pepper, add vinegar, a bay leaf and good to mix. To cover ware and to put in a cold place at 2-3 o'clock.
In a frying pan to warm up vegetable oil, to roll up ribbons of meat by circles and to fry from both parties to readiness. To a table the dish moves in a hot kind.

On 1 kg mutton brisket: 2-3 table spoons 6% vinegar, 3-4 bay leaves, 2-3 table spoons vegetable oil, salt, pepper to taste

Tokmach-tel

The beef or mutton tongue having washed out in cold water, start in boiling not salty water. Having finished to readiness add salt. Ready tongue the hot shift in cold water (the cooled down tongue is well cleared of a skin). Clean tongue again not for long boil in salty water and then cut by noodles in 3-4 mm of width.
Again not for long boil. Separately fry onions. In a soup plate mix ready tokmach-tel with onions, sour cream having added to taste salt, pepper and having divided for the portions in a hot kind submit on a table.

For one portion: 50 g boiled tongue, 20 g fried onions, 40-50 g sour creams, salt, pepper
---