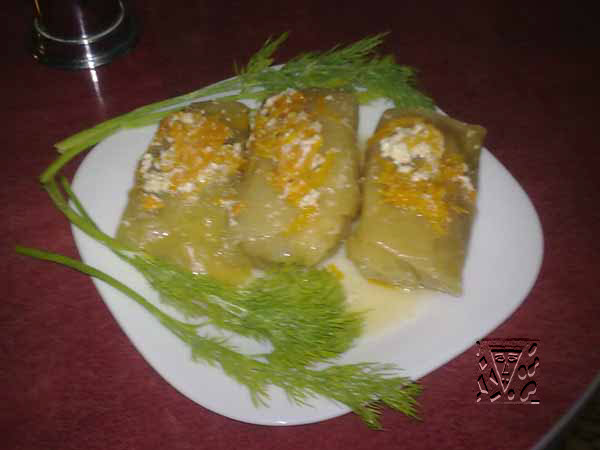 Tulma (dolma) is a family of stuffed vegetable dishes in the cuisines of the former Ottoman Empire and surrounding regions such as Russia, Iran and the Caucasus and Central and South Asia.

Method
To take the loose head of cabbage, that leaves easily moved away from each other. To cut away hard parts of large leaves. To put these leaves into the boiling added some salt water on 5-10 mines, to boil thoroughly and cast aside on a sieve. To remove Thick parts of cabbage a rolling-pin. Fat mutton or beef with a onion to skip through a meat grinder. Then to sprinkle with salt and pepper and carefully to mix. To meat to add the boiled rice (at pleasure it is possible to take millet groats), moistened in salt water, and to mix. It is possible to put a passed onion in stuffing. On the chilled leaves of cabbage to put meat with rice to wrap up, licking into to good an oblong shape. To dip prepared tulma in the stirred raw eggs or smear a raw egg. Stuffed cabbages slightly to toast on a hot frying pan, after to put, in shallow tableware (in a pan, large frying pan), to inundate the specially prepared sauce, to put a laurel sheet and extinguish 30-40 min

Preparation of sauce. To kindle oil, put the cut onion, carrot, tomatoes or tomato-puree and put on a fire, after a while to add water, salt, sour cream, pepper and cook 10-15 min the Prepared stuffed cabbages give for two things in a dish and pour a sauce.

For a recipe required you: cabbage - 200г, meat (pulp) - 100-200г, rice - 15г, onions - 90г, tomatoes - 10г, sour cream - 50г, sauce - 50г, salt, pepper - to liking.
---