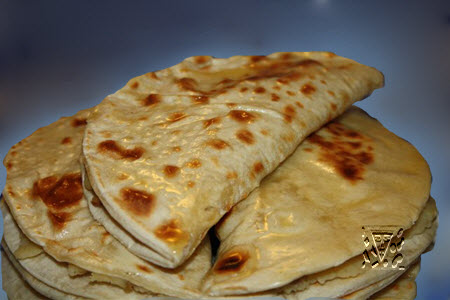 In some places kystybyj name kuzikmak or jakmysh. Usually he is prepared from a unleavened dough. Filling can be different, mostly it is a potato, rarer than porridge or poppy.
Kystybyj with a potato
To cut unleavened dough to pieces for 75 g, to roll on thin small cakes and bake on a burning hot dry frying pan to the rosy crust. To cover the prepared small cakes a napkin, that they did not harden and did not get cold.

Filling is made out of the mashed potatoes with hot milk, kindled by oil and passed onions.

Filling is laid on a half yet hotter than small cake and cover the second half. Smearing prepared kystybyj the drowned oil give in a hot kind to tea.

On 1 kystybyj: a 75 g of unleavened dough, 100 g of potato, 20 g of onion, 20 g of milk, oil for greasing of kystybyj 20 g
Kystybyj with a poppy
To sift a poppy and soak in hot water. To cast aside a dropsical poppy on a sieve and, giving to flow to water, to pound in a mortar. Then to add a bit sour cream and saccharine to sand. To inlay the got mass in arcuated twice small cakes.

On 1 kystybyj: a 75 g of unleavened dough, 80-100 g of poppy, 20 g of oil, 20 g of sour cream, 20 g of sugar.
Tatar cuisine
---