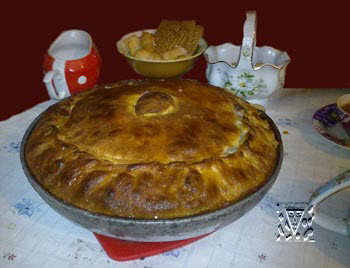 Balesh prepare with the different filling it and mutton, beef, bird, fish, groats and vegetables (potato, carrot, cabbage et cetera), can be even fruit-baccate balesh.

Potato balesh with meat.

Fresh dough is rolled by a skim; For filling there is the finely cut potato, fried on oil onions, finely chopped beef meat, salt, a pepper is prettily mixed. This filling is laid on geared-up dough (preliminary laid out on the frying pan smeared by oil) and cover the second layer stick both layers together inter se and beautifully adorning. From above smearing a vitellus put prepares in a gas-furnace. To the table give on a frying pan.

on 1 balesh: a 600-800 g of douth, 1,2 kg of potato, 500-600 g of meat, 200 g of onions, salt, pepper - to liking.
Tatar cuisine
---