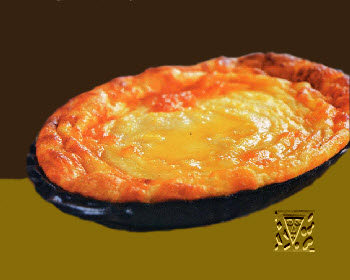 To kindle oil. In a deep bowl to fluff up eggs to homogeneous mass, after to add milk, greater part of oil. To salt to liking, carefully to mix.
To thrash a semolina or flour in a bowl, dough kneading, on consistency look like thick sour cream.
To smear frying pan a remaining dairy butter, to infuse into dough and bake on a middle fire.
As soon as mass will thicken, to put a frying pan in an oven, warmed-up дО 1800С, on 4-5 minutes.
To smear an omelet a dairy butter and serve up hot.

Tunterma possesses neutral taste, therefore she can be given with different sauces, on garnish to the hot dishes and even as a dessert, complementing cooking.

on 5-6 eggs: a 200-300 g of milk, 60-80 g of semolina or flour, 100 g of oil, salt to liking.
---