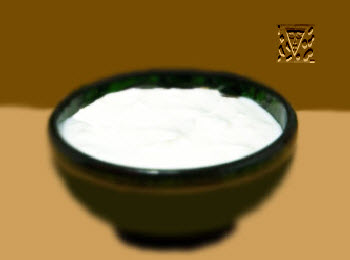 In Tatarstan very much many dishes are prepared from milk. He is added and in dough and in a porridge, katyk prepare from him, suzma, butter and tea drink usually with milk. Katyk spreaded in most Turkic countries. The feature of this soul-milk product is that he prepares from the boiled milk, but not from raw. Katyk use and as drink and for preparation of different national dishes.

At first prepare a ferment. The best ferment katyk of previous day serves as, thus, than older fungi of katyk, so much the better. In case of absence of katyk for a primary ferment it is possible to use the curdled milk. For preparation of the curdled milk take 1 litre of fresh, better pair milk, will put in him a 100-150 g of sour cream and put on twenty-four hours in a warm place.

Outpour milk in a pan and melt on a slow fire at stirring so that it did not begin to boil here, and only heated to the temperature approximately 90°С. It creates more dense consistency of katyk, and also conduces to almost complete absence of sediment as a serum. After melting filter milk through an easy cottonade or through a gauze. After filter there must be a resilient clot of sweetish taste in a gauze. Put milk to cool off. The temperature of milk, which катык is leavened at, must not exceed 40°С.

Pour warm milk in porcelain, ceramic, glass, but only not metallic tableware. A ferment infuse into in warm milk, carefully and evenly stir in him. After it close tableware a saucer, wrap up with anything warm and leave in a warm room on 8-10 ч. Then carry tableware in a cool apartment for the compression of clot.

Good katyk has dense, homogeneous, without grains consistency and pleasant refreshing taste.

On 1 litre milk: 100 g ferment.
---