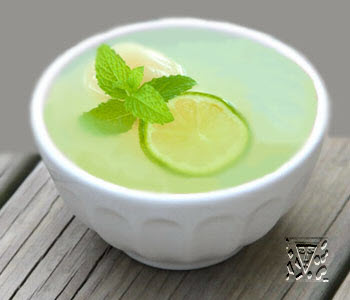 Sherbets prepare from berries, fruit-baccate juices and sugar. For preparation of sherbet, at pleasure, instead of sugar, possible to use honey. Sherbets are liquid and thick. Thick Sherbets is used for preparation of different dishes, liquid - as dessert drink. Especially good sherbets turn out from a raisins, dried apricots, cranberry, cherry and blackberry.

Thick sherbet from a cherry

To sort out a cherry, carefully to wash, clean from stones, pour the granulated sugar (1 - 1,5 kg saccharine to sand on 5 kg of berries) and to propose on a sun. Surviving in the sunshine 1-2 days, to mash a cherry a wooden spoon, to shift in a gauze sac and wring out juice. In juice to add the granulated sugar (2 glasses on 3 glasses of juice) and boil during 5-10 min. To pour the Chilled sherbet in glass tableware.

Liquid sherbet from a raspberry or strawberry

To sort out Raspberry or strawberry, wash, carefully to mash and, casting aside on a sieve or wrapping up in a gauze, to wring out juice. To inundate spues water, once again to mash and again wring out juice. In the got juice to add the granulated sugar to liking, carefully to mix and boil. To put a sherbet on a cold. Such sherbet does not maintain the protracted storage and in 5-6 hours deteriorates. Therefore the chilled sherbet at once to serve up.
---