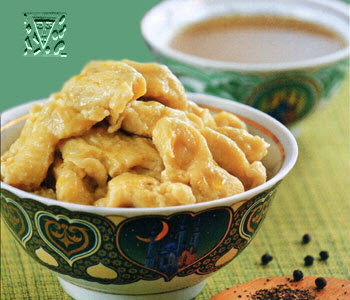 Chumar
To cook meat-broth (better from mutton, beef or hen). Pass through a filter him, to pour off part for preparation of dough, to use remaining clear soup for cooking of soup.

For preparation of trickled pastries to pour the sifted flour in tableware, in the middle to do deepening, add an egg to him, put salt and, little by little refilling clear soup, to knead dough. Clear soup for chumar must be not hot, an egg can coagulate otherwise. Dough must turn out liquid (as thick sour cream) enough, well mixed to homogeneous mass, that did not flow down from a spoon.

From the prepared dough to take small pieces by a size with hazel-nut and to lay them in the boiling added some salt and pepper clear soup or soup.

To cook chumar to readiness (12-15 minutes), after to lay out on piattis and serve up. Clear soup is given in separate tableware.

Trickled pastries can be made out of wheat, peas, buckwheat and lentil flour.

Flour - 35-40 g, eggs are 1,5 th., water or clear soup - a 30-40 g, salt, pepper to liking.
Tatar cuisine
---