The tatar cuisine is delicious and useful.
Long since Tatars are famous for the culinary art. The ethnic cuisine does life of these great people more richly also is more significant. Still with to the Mongolian times Tatars conduct a settled way of life in which basis agriculture and for this reason so

Tatar cuisine

with products from the dough is rich lies. Perhaps any kitchen of the world cannot brag of such love to bread. It is not less various and meat dishes on which leave its mark the neighbourhood with nomad tribes and religious features of the people. Tatars do not prepare pork but there are no better masters in processing of a horse-flesh, mutton and beef. However get acquainted with this fine kitchen on site pages and do conclusions.
_______________________________________________________________________________________________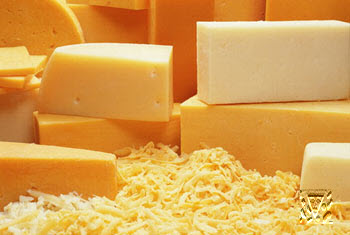 Cheese tebese
Pass cheese through a small grater. In deep ware mix raw eggs, the salt, grated cheese. To the received weight a thin stream add milk or cream, stirring slowly with a spoon or a mixer.
Frying pan preliminary greased with sunflower-seed oil, warm up and lay green peas and the prepared mix. Put in an oven for 15-20 minutes to readiness. Ready tebese cut for the portion and in a hot kind submit to a table.

On 150 g cheese: 5 eggs, 1 glass of milk or cream, 4 tbsp of green peas, 3 tbsp of vegetable oil, salt.
Salad from red cabbage
Cut red cabbage, add a few salt and knead hands before juice allocation. The boiled mushrooms cut. Small cut well washed out cucumbers and onions. All ingredients lay in deep ware and having added to taste of salt, sugar to sand, sour creams properly mixed. Ready salad we submit to a table in a salad dish.
On 300 g red cabbage: 300 g mushrooms, 2 pickles, 1 onion, 200 g sour creams, granulated sugar, salt, greens.
Tatar cuisine
---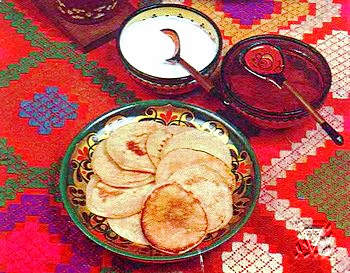 Kojmak
There is another kind of pancakes in Tatarstan, called Kojmak. They are little and very thick. You can put 5-6 kojmaks on the pan. The base of batter for kojmak can be buttermilk or sour milk or katyk. Mix eggs with buttermilk (katyk or sour milk). Add soda, sugar, salt and flour and mix thoroughly. The batter must be dense but liquid, if it is not, add more flour. Drain the batter so that there are no flour lumps in it. Pour a little vegetable oil into a pan. Heat the pan. Pour 5-6 little rounds of batter on the pan. Cook until light brown, about 2 minutes on each side. Servings: 5-6.
Ingredients: 4 c buttermilk or katyk, 20 tbsp flour, 3 tbsp sugar, 3 ea eggs, 2 tsp baking soda, 1 tsp salt
Salad from a cauliflower
Cauliflower and carrots cut by small slices. Add parsley and a celery. All ingredients mix in deep ware with vegetable oil and honey.
On 50 g a cauliflower: 1 carrots, greens (parsley, a celery), 1 tbsp of vegetable oil, 1 tbsp of honey.
Tatar cuisine
---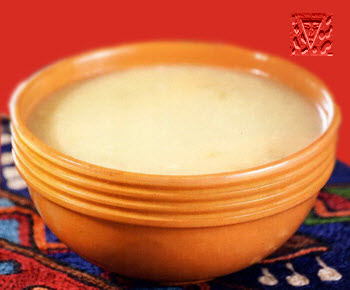 Umach
With umach possible to cook meat, dairy and lenten soups.
Umach is rubbed clean from wheaten, buckwheat, oat and rye meals. To fill in flour ware. Adding a broth or water (much less, than on dough for noodles and
chumar
), carefully to mix a flour: the formed weight to pound fingers before reception of small balls.
Ready umach to put in a boiling broth. That balls umach not stick together, it is necessary to put it, pounding both hands, and to cook stirring slowly.
For one portion: 35-40 g flour, 30-35 g a broth or water, salt on-taste.
Salad vegetable
Cucumbers to clear of a thin skin and to cut circles. Tomatoes to wash cold water, to cut segments. The boiled cooled turnip to clear of a thin skin and to slice.
Vegetables, without mixing, to lay in deep ware, to fill with salt, black ground pepper, to strew small chopped onions and to water with vegetable oil or sour cream.
Cucumbers fresh 50 g, tomatoes 50 g, turnips 30-40 g, onions 15 g, oils vegetative 15 g or sour cream 30 g, salt and pepper on-taste.
Tatar cuisine
---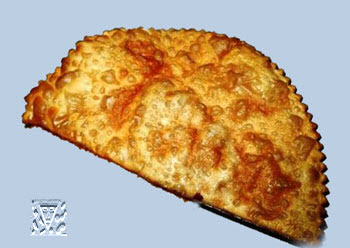 Chiburek is a fried turnover with a filling of ground or minced meat and onions. It is similar to the
peremech
of the Volga Tatars, but made with a single round piece of dough folded over the filling in a half-moon shape. A national dish of the Crimean Tatars.
Chiburek
In a large pot, bring the water to a boil, adding the butter and salt and stirring until melted. Quickly mix in about a half cup of the flour and stir until smooth. Add the egg and the remaining flour, using more flour as necessary to make a not-too-stiff dough, and knead until soft and even. Let rest in a covered bowl at room temperature for one hour. Meanwhile, prepare the filling by taking several handfuls of fresh mushrooms, trimming the ends and slicing thinly, and frying gently in butter with the addition of some finely chopped Spanish onion. When softened, season to taste with salt, black pepper and some chopped mixed greens consisting of flat-leaf parsley, coriander and celery leaves. Let cool. To make the cheburek, roll the dough to a thickness of about your little finger. Roll the dough into a thin sheet, cut circles by the back side of the mold. Place a circle into the open mold, add a generous spoonful of the filling in the middle. Close the mold and press a little. One, two, three and chebureks are ready! When all of the cheburek have been filled, heat some oil and butter in a large pan and fry over medium heat until golden brown.
Ingredients: 4 cups white flour, 1 cup water, 1 egg, slightly beaten, 2 tablespoons salted butter, a half spoonful of salt, meat filling
Tatar cuisine
---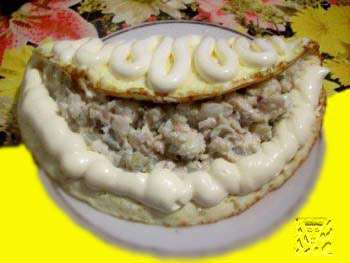 For preparation a potato, a cucumber and a fish are cut by cubes, add mayonnaise and well mix. The stuffing is ready.
From eggs and milk bake an omelette in the thickness no more than 3-4 mm. Cool and lay on it the prepared stuffing. Turn off in the form of an envelope and submit to a table, having watered with mayonnaise and having decorated with a green onions and parsley.

On 200 g boiled fish: 1 boiled potato, 1 pickle, 2 eggs, 1 tablespoon milk, 2 tablespoon mayonnaise, salt

Salad from a sorrel

Leaves of a young sorrel wash in cold water and cut strips in 2 sm in the thickness. In deep ware mix a sorrel, sour cream, salt and pepper. For taste possible to add a sugar. A ready mix to lay in a salad dish and decorated along the edges by leaves of a young sorrel with the cut boiled egg. From above we strew small cut dill.

On 100 g a sorrel: 40-50 g sour creams, 1 egg, salt, pepper
Tatar cuisine
---