I am Rinat Mirgazov Foat uly .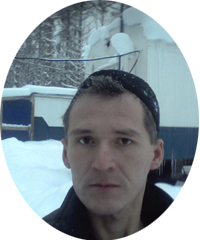 Hallo my friends !
On this page I would like to say two words about myself. I was born in small Russian town Berezniki, Perm region. My education wasn't very bad. I went to Berezniki school and then studied at Moscow university. I don't finished university, because my pocket wasn't full with money. I decided to make business and many traveled like dealer.
In that time I met young lady who became my wife. Together we leaved Moscow for Novosibirsk. Here was born my daughter. One years later my wife was invited to Moscow again, where she found a good job. My wife was good businesswoman but wasn't good mother.
In this case I spend mach time with my daughter and have got a good life lesson. I was busy with educating my girl and took education myself. I become write poems developed to my daughter and this site developed her. Difficult makes my life beautiful.
Now I lost my family, my mother, my brother and all my friends. I haven't job and lives lonely , but I have knowledge. I understand in which country I have living. I don't smoking and I don't other harmful habits, but I want to be free with my thought. I want to speak in my native language and pray my historical God. Why I must become Russian ? Why I must to work at dirty place, where don't pay money ? I don't claim more, then other men.
For advertisers and by persons interested to help in development of project "My house" our company details : ICQ 636-880-304; Skype izgekhan; Webmoney R220265377091
Your advertising place
Terms of placing:
Payment: Webmoney, Moneybookers

Statistics is not conducted, all terms contractual.
Order of placing:
1. A client sends the banner (468х60) to us

2. We send to the client our pay details

3. A banner is set after payment

Our contacts:
e-mail: This email address is being protected from spambots. You need JavaScript enabled to view it.
skipe: izgekhan